Apple counterfeits takedown blitz; Chile moves closer to Madrid Protocol; fake 3M mask warning – news digest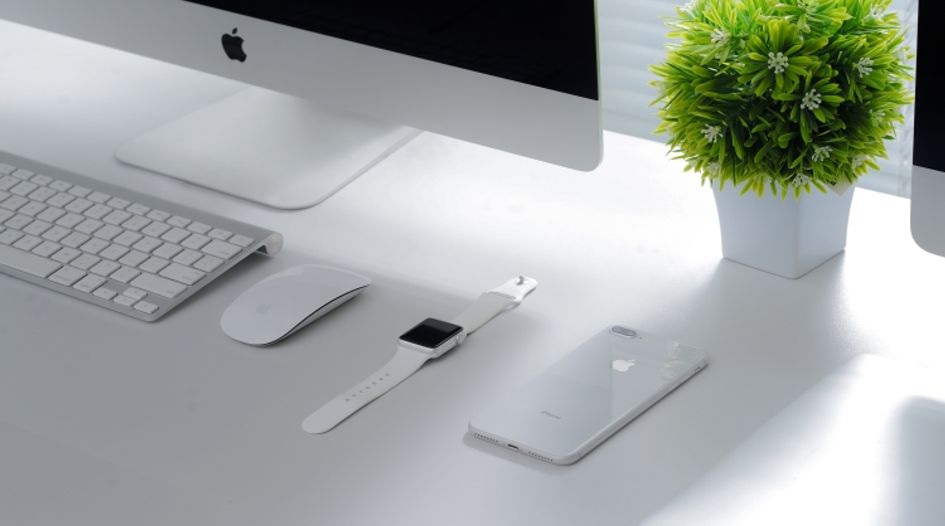 Every Tuesday and Friday, WTR presents a round-up of news, developments and insights from across the trademark sphere. In our latest round-up, we look at a new anti-counterfeiting label being developed, Everlast inking a deal with SportLife Brands, the Mongolian IP Office joining a gender campaign, and much more. Coverage this time from Trevor Little (TL), Bridget Diakun (BD), and Tim Lince (TJL).
Market radar:
Health Canada issues fake 3M mask warning – Health Canada has issued a warning about counterfeit 3M N95 respirators in light of recent seizures in Canada and at the border. Since mid-February 2021, the Department has seized close to 330,000 counterfeit 3M-branded N95 respirators from Canadian distributors and detained nearly 365,000 at the border. The organisation is working with 3M Canada and the Canada Border Services Agency (CBSA) and has established a hotline and published information on its website to help Canadian customers identify, prevent and report suspected fraud. It states: "Health Canada remains committed to protecting Canada's supply of legitimate respirators and preventing counterfeit respirators from entering the Canadian supply chain. The department is working with 3M to confirm counterfeit products, to identify their source and to determine where they may have been distributed or sold in Canada. Health Canada is also working with regulated parties to recall counterfeit respirators from the Canadian supply chain. Health Canada will continue to take action to stop the import and sale of counterfeit respirators in Canada." (TL)
Apple's million listings takedown effort – Over on Bloomberg, Daniele Lepido has reported on a Ghost Data Team investigation into fake Apple products on Instagram, with 163 wholesale sellers of counterfeit Apple accessories found across a one month period. "Our study aims at exposing Instagram's difficulties, or unwillingness, to properly address its long-standing counterfeit market and also to highlight the many dangers of such illicit business for Apple and consumers alike," the researchers said. Many outlets have latched onto a statement from Apple, which said: "The safety of our customers is our first priority, and the risks associated with counterfeit products can be very serious. We have a dedicated team of experts constantly working with law enforcement, merchants, social media companies and e-commerce sites around the world to remove counterfeit products from the market. In the last year we have sought the removal of over 1 million listings for counterfeit and fake Apple products from online marketplaces, including Facebook and Instagram." The statement has made waves for two reasons. First is the 'million' number, and the second the 'revelation' that Apple has a team dedicated to taking down counterfeits. The latter should be no surprise to WTR's readers though. It is merely Apple responsibly engaging in brand protection work. (TL)
New anti-counterfeiting label developed – Over on SecuringIndustry, new "invisible anti-counterfeiting labels" have been developed by researchers in Russia. A team at ITMO University and St Petersburg Academic University claim to have used a laser "to add ions of the rare-earth metal erbium to create an image on a sticker made of a silicon nanofilm", which "create a lattice of holes on the film and in some of those add erbium in a defined pattern". While we won't pretend to understand how that works, the scientists say the technology could be a covert way to label certain types of products. "Manufacturers could use the approach as a covert way to label electronics, drugs, jewellery, and other products with invisible images that can only be seen using special equipment," the scientists claim. "Counterfeiters would struggle to discover the format of the images, even if they know it is present, as they would have to get into the shipment system, learn to work the equipment, and master label reading methods." (TJL)
Brand radar:
Everlast inks deals with SportLife Brands – Everlast Worldwide, the manufacturer, marketer and licensor of sporting goods and apparel under the Everlast name, has announced it has signed a license with SportLife Brands, reports License Global. SportLife will produce, market and sell products like sleepwear and thermals under the Everlast brand in the US. Ellie Levy, chief executive officer at SportLife Brands, commented on the deal saying: "Everlast is an iconic American brand with universal consumer appeal. We are excited to partner with Everlast on this venture, bringing our deep knowledge in design, production [and] sourcing, developing lines synonymous with the Everlast name and history." (BD)
Popeyes looks to go global after 2019 sandwich success – Popeyes was once, described by Bloomberg, a "sleepy brand" but has since undergone a significant transformation following the unforeseen popularity of its chicken sandwich in the summer of 2019. The company, owned by Restaurant Brands International Inc, is now looking to go global. It is expected to soon announce a debut in the UK, and it is also looking to expand into another 30 countries or so. China is the main target, where rival KFC has established a strong presence. Popeyes opened its first restaurant there in May with a franchise partner and aims to have 1,500 locations in a decade. Restaurants Brands chief executive officer Jose Cil is betting big on Popeyes. The company has not had the greatest track record with overseas expansion, but its other brands, Burger King and Tim Hortons, have seen sales slow over the years and struggle during the pandemic. Popeyes on the other hand, which Restaurant Brands acquired in 2017, grew 15% last year. The company is hoping that the chicken sandwich craze will be a turning point for the brand, and indeed since its launch it has been "inundated by potential franchisees from across the globe". Part of Popeyes success was a social media post in reply to Chick-fil-A who tweeted about its sandwich being the original. In reply Popeye said "y'all good?" which kicked off what many people dubbed the "chicken sandwich wars." After that Popeyes was overwhelmed with demand to the point it sold out in two weeks. Ultimately, the situation born out of the marketing and sandwich itself amplified the brand in its home country and has created the opportunity for global expansion. Restaurant Brands will have to work hard, though, to cultivate the brand's image and reputation as it seeks to establish itself as a staple in other markets. (BD)
Do you have a few minutes to share insights about your trademark practice? WTR would really appreciate your help to build a picture of the trademark sector. 
Legal radar:
US State Department employee sentenced for selling fakes – According to a US State Department press release, a former employee and his spouse were sentenced last week for their roles in a conspiracy to traffic counterfeit goods. The couple reportedly trafficked in hundreds of thousands of dollars in fake items through e-commerce accounts operated from State Department computers at the US Embassy in Seoul, South Korea. The pair pleaded guilty in December 2020, with the former employee sentenced to 18 months in prison (and three years of supervised release) and his wife sentenced to three years of supervised release (with the first eight months consisting of home confinement). Furthermore, the couple were ordered to forfeit $229,309. (TJL)
Office radar:
(For more of the latest coronavirus-related updates from national IP offices, please read our dedicated article which is being continuously updated)
INAPI moves step closer to Madrid – The Chilean government's Senate Foreign Relations Committee has unanimously approved the Madrid Protocol – moving it closer to being implemented in the country. In a 5-0 vote, the committee gave the green light to the draft agreement, and it now moves to the Chilean chamber for a further vote. At a speech during the committee (before the vote), INAPI director Loreto Bresky referenced a 27% growth in trademark applications in Chile in 2020 compared to the previous year, expanding: "This growth was driven mainly by residents, and in particular, by natural persons. Currently, these entrepreneurs have no choice but to go country by country to request the registration of their trademarks. With the Madrid Protocol, they will have a different alternative." In a WTR article from December 2020, local practitioners voiced some concerns over the Madrid system's implementation in Chile – including the potential impact on INAPI's workload and the readiness of the current legal framework. (TJL)
Postcodes now mandatory at Irish IPO – The Irish IP Office (IPOI) has announced that postcodes are now a mandatory field on all of its e-filing services. Therefore, that address information should be added to any transaction carried out at the IPOI. "If an applicant does not know their postcode, there are a number of online facilities available to help identify both national and international postcodes," a registry spokesperson added. (TJL)
USPTO goes back to boot camp – The USPTO's Trademark Basics Boot Camp returns on 6 April with Module 1 of the series, "Trademark Fundamentals". This eight-part series delivers once-a-week training that covers the federal trademark registration process from pre-filing to post-registration. Every session includes a Q&A portion. To see the full list of topics and to register for modules, visit the Trademark Basics Boot Camp page on the USPTO website. (TL)
Mongolian IPO joins gender campaign – The Intellectual Property Office of Mongolia (IPOM) has joined the 'I am against gender stereotypes' campaign. In a brief statement, the IPOM states that it has backed the campaign "to fight against gender stereotypes, inequality and discrimination, and to build a society with equal rights and equal participation". (TJL)
Paraguayan IPO issues first designation of origin registration – Paraguay's National Directorate of Intellectual Property (DINAPI) has announced the first registration of a designation of origin in the country. The accolade went to the Interprofessionnel du Vin de Champagne Committee, the French commercial organisation that represents around 16,000 winegrowers and 320 maisons from the Champagne region of France. (TJL)
On the move:
Brown Rudnick announce additions – Brown Rudnick has announced the addition of Ian DiBernardo and Jason Sobel, based in the firm's New York office. DiBernardo and Sobel provide full-service Intellectual Property counsel to technology clients in a wide range of industries. Bill Baldiga, chairman & CEO of Brown Rudnick, commented: "We are excited to welcome Ian and Jason to the firm. They bring sophisticated practices to our already strong IP litigation and technology teams. Their addition further expands our offerings for our IP and technology clients worldwide." (TL)
Freeborn & Peters adds partner in New York – Delphine Knight Brown has joined Freeborn & Peters as a partner in the intellectual property and litigation practice groups in the firm'snNew York office. "We are so excited to welcome Delphine to our team and to Freeborn," said Kimberly Beis, partner and co-leader of the intellectual property practice group. "Delphine brings vast and varied experience in intellectual property litigation and we know she will only enhance our abilities to offer incredible experience and service to our clients." Brown specialises in litigating complex technology cases but also has experience serving as lead trial counsel in trademark and copyright infringement cases for luxury brands and consumer goods manufacturers. (BD)
Three partners join Desmarais as DC office launched – Three partners have joined Desmarais to launch the firm's office in Washington, DC and expand its International Trade Commission and appellate practices. Justin Wilcox, who has been at Desmarais since 2012, will lead the new office, which will be virtual initially (the firm planning to secure physical office space once the coronavirus pandemic is under control and it is safe for in-person work to resume). Wilcox is joined by Goutam 'Gooch' Patnaik who, along with Tuhin Ganguly and David Shaw, has started as partners at the firm. "We sought to create a Washington, DC office, anchored by a team of attorneys with extensive ITC litigation experience, and we found an ideal match," said John Desmarais, founding partner of Desmarais. "These three attorneys have excellent track records before the ITC and a level of knowledge that's on par with anyone in the industry. We're looking forward to watching them grow the practice and helping us build out the new office." (TL)
France's Ipside, Santarelli and Brevalex merge – French firms Ipside, based in Toulouse, and Santarelli and Brevalex in Paris have merged to form a new entity called Santarelli Group. The combined firm will have 300 employees and is set to offer services across the intellectual property spectrum. (BD)
And finally...
Tracking critical industry trends and challenges: WTR needs your views – WTR is inviting trademark professionals across the globe to participate in the latest benchmarking survey, which focuses on operational management to track the latest trends and identify how practice is evolving. There is no cost associated with taking part in the community project, which is designed to give brand experts – both in-house and in law firms – a benchmark for practice management. As well as revealing key trends in the organisation of the trademark function, including finance, structure and headcount, this year we will explore the impact of the covid-19 pandemic on trademark operations. Responses will be treated with full confidentiality. Only anonymised and aggregated information will be used for publication of the survey results by WTR, and your details will not be used for any commercial purpose, nor be shared with third parties.Completion of the survey should take around 15 minutes. The results will be presented on the WTR platform and respondents will receive key findings. The survey form is available here.