Amazon bans hundreds of Chinese brands; record-breaking year at UKIPO; Netflix acquires Roald Dahl rights – news digest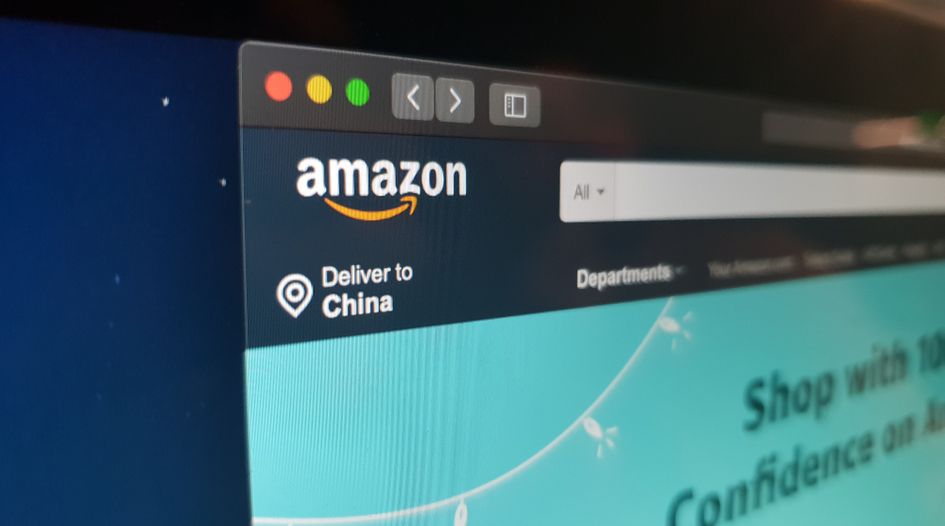 Every Tuesday and Friday, WTR presents a round-up of news, developments and insights from across the trademark sphere. In our latest round-up, we look at the industry reacting to Office of the US Trade Representative (USTR) appointments, Japanese companies urged to prepare for litigation in China, the UK Intellectual Property Office (UKIPO) rejecting attempts to register footballer names, and much more. Coverage this time from Victoria Arnold (VA), Tim Lince (TJL) and Trevor Little (TL).
Market radar:
Industry reacts to USTR appointments – The US Senate has confirmed that Jayme White will serve as deputy US trade representative. White has served in the US Senate since 2009, including as the chief trade adviser for the Senate Committee on Finance since 2014. In that role, he has represented and advanced bipartisan US views to foreign trade leaders, the outcomes of which are evident in many trade agreements. The American Apparel & Footwear Association (AAFA) has welcomed the news. "Jayme White is a highly qualified individual who will bring a wealth of experience to the Office of the US Trade Representative," stated Steve Lamar, AAFA president and CEO. Sarah Bianchi has also been confirmed as a deputy US trade representative.  Bianchi will work closely with the apparel and footwear industry, with portfolios covering Asia, Africa, investment, services, textiles and industrial competitiveness. "Sarah Bianchi brings a wealth of experience to this role, and we are excited to work with her on the critical industry issues and with trade relationships in Asia and Africa,"  Lamar added. "Getting the USTR bench up to full strength is important for the US apparel and footwear industry, which depends on access to global suppliers and to global customers to support the livelihoods of more than 3 million American workers throughout our supply chains." (TL)
Amazon bans hundreds of Chinese brands from system – Amazon has permanently banned more than 600 Chinese brands across 3,000 different seller accounts, according to reports by The Verge. The number was first cited by the South China Morning Post. The 600 brands were banned for knowingly, repeatedly and significantly violating Amazon's policies, in particular those that review abuse, a company spokesperson told The Verge. "We will continue to improve abuse detection and take enforcement action against bad actors, including those that knowingly engage in multiple and repeated policy violations, including review abuse," an Amazon statement expanded. "We are confident that the steps we take are in the best interests of our customers as well as the honest businesses that make up the vast majority of our global selling community." (TL)
Japanese companies urged to prepare for litigation in China – A Nikkei Asia report reflecting on litigation statistics from China has warned that foreign companies need to be ready for lawsuits as "China goes on an intellectual property offensive". The article argues that enhanced IP legislation in China, which has led to the courts granting high amounts of damages for violations, has opened the floodgates for litigation, with Chinese companies becoming more proactive in protecting their rights. "The trend has meant that Japanese companies, for example, are having to adjust their China IP strategies, which have traditionally been focused on dealing with infringements involving Chinese businesses, in order to be better prepared for the risk of being sued by Chinese competitors," it reflects. The piece provides examples of firms that have found themselves embroiled in IP disputes, with legal commentators recommending that companies conduct internal simulations and develop manuals to deal with lawsuits against them."It is becoming increasingly important for Japanese and other foreign companies to map out effective and viable plans and strategies for handling IP lawsuits in China, whether they are the plaintiffs or the defendants," the report concludes. (TL)
Brand radar:
Netflix acquires Roald Dahl rights for "unique universe" of products – Netflix has acquired the Roald Dahl Story Company (RDSC) and plans to create a "unique universe" of products based on the author's characters and stories. According to a press release, the two companies "are joining forces to bring some of the world's most loved stories to current and future fans in creative new ways". The deal comes three years after Netflix and the RDSC worked together on an animated TV series based on Charlie and the Chocolate Factory and an adaptation of Matilda The Musical. "These projects opened our eyes to a much more ambitious venture – the creation of a unique universe across animated and live action films and TV, publishing, games, immersive experiences, live theater, consumer products and more," said Netflix. "As we bring these timeless tales to more audiences in new formats, we're committed to maintaining their unique spirit and their universal themes of surprise and kindness, while also sprinkling some fresh magic into the mix." (VA)
AT&T sets aside entertainment aims to refocus brand image – AT&T is undertaking a "multi-year effort" to improve its brand reputation, reports Reuters. Speaking at Goldman Sachs' Communacopia conference, AT&T chief executive John Stankey said that he was not satisfied with the company's brand image, as it is not currently perceived by customers as "being the best in all cases". AT&T plans to spin off its media unit, WarnerMedia, to combine with Discovery Inc, in order to set aside its ambitions to become an entertainment powerhouse and instead refocus on its communications business. (VA)
Iconix Brand Group enters footwear market as Starter licensee – US brand management company Iconix Brand Group is branching into footwear after signing a three-year licensing agreement with Genesco. Under the agreement, Iconix will become the exclusive US and Canadian footwear licensee for premium athletic brand Starter. The deal covers basketball, running, lifestyle, slides and training products, and marks Starter's return to the market after roughly five years' absence. "Starter has been part of the sports and fashion landscape for almost five decades and as we celebrate our 50th Anniversary, entering the footwear market will allow us to capitalize on the growing consumer demand for heritage brands," said Robert Galvin, CEO, president and a member of the board of directors at Iconix. "We are excited to partner with Iconix on the Starter brand," added Andy Gilbert, president of Genesco Licensed Brands. "Starter's authentic sports positioning combined with its affiliation with all major Pro and College sports leagues created a tremendous platform for the extension into footwear." (VA)
Legal radar:
Individual loses attempt to register footballer names as trademarks – Scotland resident James Dear has lost a bid at the UKIPO to register the names of sports stars as trademarks without their express permission. In a ruling this week, the UKIPO held that trademark filings for RONALDINHO and THIERRY HENRY, covering various clothing goods and services, would not go forward. According to The Times, Dear said that "he was free to register the trademarks because there was no right of publicity or a right to protect a person's image or likeness in Britain" and that he "planned to gain trademarks for hundreds of footballers who had not registered their names themselves". However, the UKIPO disagreed and the marks were refused. While the trademark filings were ill-advised, Dear makes a point that many football stars do not seek trademark rights for their names. As WTR revealed earlier this year, many leading footballers own dozens of trademarks, including Lionel Messi with 115, Neymar Jr with 60 and Cristiano Ronaldo with 53. Yet some of the most expensive stars, including Kevin de Bruyne, Erlin Haaland and Mohammed Salah, do not own any. (TJL)
Office radar:
(For the latest coronavirus-related updates from national IP offices, please read our dedicated article, which is being continuously updated.)
UKIPO report reveals record-breaking year for trademarks – The UKIPO has published its latest Innovation and Growth report, which illustrates how the IP office, intellectual property and innovation are supporting the government's plan for growth. The report is shaped around the UKIPO's outward-facing strategic goals: delivering excellent IP services (with further details of its transformation programme and inputs/outputs of registered IP rights) and creating a world-leading IP environment (including delivering the policy and legal framework to support the end of the Brexit transition period, free trade negotiations with the European Union and its work in key markets). Trademark demand hit record highs of 161,207 applications across the 2020-2021 period, the report reveals. Of those, 140,894 direct applications represented a 56.7% increase compared with 2019-2020. The office also received 20,313 applications via the Madrid system. This led to the recruitment of additional trademark examiners. Designs have also had a record year, with an overall total of 69,520 applications received – a 46.7% increase on 2019-2020. "The UK has an extraordinary heritage of innovation stretching back to the industrial revolution, and an effective IP regime has been at the heart of its development," stated UKIPO CEO Tim Moss, reflecting on the report. "Our latest report captures the IPO's contribution towards making the UK the most innovative country in the world, capable of meeting our biggest challenges now and in the future." (TL)
KIPO reacts to WIPO report – Earlier this week we reported that brand-related activity had propelled South Korea to the top five of WIPO's Global Innovation Index rankings for the first time. The Korean Intellectual Property Office (KIPO) has now responded to the report. "The main reason that the Global Innovation Index has risen compared to other countries is the country's innovative efforts to overcome the crisis," commissioner Kim Yong Rae stated. "In the future, the Korean Intellectual Property Office will build an institutional foundation that can effectively utilise and protect IP rights, the result of creative ideas and innovation, so that innovation and economic development will take place in a virtuous cycle. We will take the lead in creating an eco-friendly ecosystem." (TL)
Slovenian IP office appoints acting director – The IP Office of Slovenia has appointed Karin Žvokelj as acting director pending the appointment of a permanent director. It is understood that 'special public competition procedure' to select a new director has not yet been completed. Previous director Vojko Toman ended his five-year term on 20 September 2021. (TJL)
Law firm radar:
IP partner returns to Pillsbury – Hean Koo has rejoined Pillsbury as a partner in the firm's IP practice. He joins the side from Mannava & Kang and will be based in Pillsbury's Northern Virginia office. Koo's practice focuses on patent prosecution and client counselling in a variety of fields including computer software, blockchain, AI, machine learning, retail point of sale systems, financial services, software relating to retail touch points, wireless communication systems, medical devices and haptic-enabled devices. "Hean is a strategic thinker and talented lawyer with extensive experience in high-value patent prosecution," said Jack Barufka, leader of the firm's IP practice. "Protecting IP is always a top priority for our large base of technology clients and Hean has the knowledge and skillset to help them do that. We are excited to welcome him back, as his arrival will be invaluable to our increasing client base." (TL)
Bolet & Terrero welcomes new IP partners – Venezuela's Bolet & Terrero has welcomed Rafael Ortin and Luis Henriquez as partners at the firm. The pair are joined by the team that they built at MHOV, a firm that they co-founded around 15 years ago. The new outfit boasts 10 lawyers in total. "Recent events indicate that Venezuela is trying to overcome the crisis by opening up the economy," stated managing partner Manuel Polanco. "Rafael is in my opinion the best copyright and unfair competition lawyer in Venezuela, and Luis is a highly experienced patent and trademark practitioner with significant international reach. We believe we are now very well placed to face this new era for IP and the expected increased demand for IP services in Venezuela, and perfectly positioned to embrace the new ways of doing business that will emerge after the pandemic." (TL)
In-house vacancies radar:
Novartis Pharma – Novartis is seeking a leader for the global legal brand protection centre of excellence (CoE) in the pharma IP team. Based in Switzerland, the purpose of the role is to head up the CoE and ensure close collaboration among the various trademark experts integrated within the company's pharma IP group. The head of the CoE will support the development of policies and practices cross-divisionally, as well as litigation management, including parallel trade and diverted goods defence and unfair competitive practices globally. (TL)
And finally...
WTR events to take place in Europe and the United States – WTR is hosting a series of one-day events in London, San Francisco, Chicago and New York this December. WTR Live: The Future of Trademark Management and Brand Protection will facilitate discussion, benchmarking and the sharing of best practice around key topic areas and challenges facing brand leaders. Crucially, it will offer a glimpse into what industry leaders expect the future of trademark practice to look like. Registration is free to in-house brand professionals. Spaces are limited and should we be unable to host the event, registration fees will be fully refundable. While on site, we will be adopting the All Secure Standard to ensure that all attendees can continue to do business effectively and network with their peers safely. For full details, and to reserve a place, see the official event page.