Amazon backs INFORM Act; INTA unveils capsule keynotes; Mattel expands Disney licensing – news digest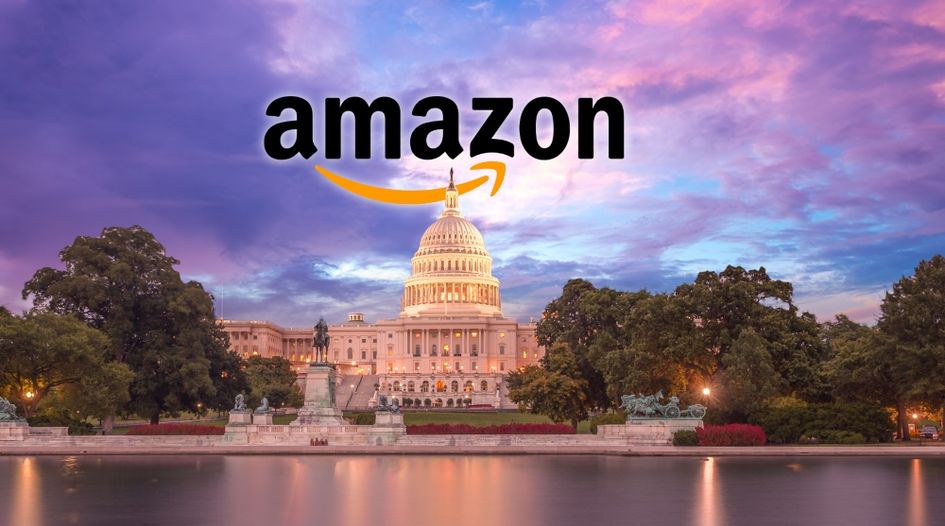 Every Tuesday and Friday, WTR presents a round-up of news, developments and insights from across the trademark sphere. In our latest round-up, we look at the UK government launching a consultation on AI and IP, a new report focused on the mental wellbeing crisis in the legal profession, Jessica Simpson regaining control of her self-titled brand, and much more. Coverage this time from Bridget Diakun (BD), Tim Lince (TJL) and Trevor Little (TL).
Market radar:
Amazon backs House version of INFORM Act – Amazon has thrown its support behind the the House version of the INFORM Consumers Act. Brian Huseman, Amazon's vice president of public policy, explained that the company had pushed back on previously proposed measures that it deemed as favouring large brick-and-mortar retailers at the expense of small businesses that sell online. However, he explained: "Amazon and a number of small businesses that sell in our store have spent this past year talking to policymakers about the facts and what Congress can do to truly help protect customers, while not punishing the honest small businesses that sell online". Resulting changes to the legislation in the House version of the act have been welcomed, Huseman expanding: "These modifications will protect innovation, giving Amazon and other online marketplaces flexibility in how we stop bad actors. Equally important, this bill will not favor one business model over another. We're thankful for the progress that's been made on the House version of the INFORM Act and look forward to supporting its passage." Responding to Amazon's statement, Buy Safe America Coalition spokesperson Michael Hanson said: "Retailers and our industry partners are glad that Amazon has finally acknowledged the billions in counterfeit and stolen goods sold on marketplace platforms, and the harm it has caused consumers and legitimate businesses. The Buy Safe America coalition will work with members of both parties to pass this important legislation by the end of the year, but Congress should not allow Amazon to water down transparency provisions within the bill. Consumers deserve to know who they are buying from, and it's time to shine a light on the criminals and con artists peddling illicit goods on Amazon's marketplace." (TL)
INTA unveils roster for capsule keynotes – INTA has revealed a number of experts from the trademark, entertainment, restaurant and other fields who will present at its upcoming 2021 Annual Meeting Virtual+. Among the latest names to be announced are chef and restaurateur Daniel Boulud, Marc Landsberg (founder and CEO of SocialDeviant), producer and director Kourtney Kang, Andraéa LaVant (president and chief inclusion officer at LaVant Consulting), Xavier Ragot, group general counsel at Christian Louboutin Group, and Tony West, senior vice president, chief legal officer, and corporate secretary, Uber Technologies. These personalities will all be capsule keynote speakers. The association previously announced that Denise Lee Yohn, a brand leadership expert, will be the keynote speaker at the event. This year's Annual Meeting, which takes place 15 – 9 November, adopts a hybrid format. This consists of five days of educational sessions, business development opportunities, and social networking activities on a virtual platform, as well as in-person mini-conferences in Europe and the US. (TL)
IBA report focuses on mental wellbeing crisis in the legal profession – A new International Bar Association (IBA) report has identified worrying mental wellbeing trends across the profession and provides ten principles for legal workplaces to help address the crisis. The report, Mental Wellbeing in the Legal Profession: A Global Study, draws on data collected from almost 3,500 surveyed legal professionals and more than 180 legal organisations. The findings confirm that mental wellbeing of legal professionals is a cause for global concern; has a disproportionate impact on women, young people, those who identify as an ethnic minority, and those with disabilities; and that stigma is a major problem, with 41% of respondents saying that they would not discuss issues with their employer for fear of damaging their career. Among the principles set out in the report to address the mental wellbeing crisis are recommendations for law firms to adopt a mental wellbeing policy, address systemic problems, acknowledge the impact poor mental health has on the profession and better understand the difficulties experienced by specific groups, including younger, female, ethnic minority, and legal professionals with disabilities. Reflecting on the findings, IBA president Sternford Moyo, commented: "Raising awareness and open dialogue and communication are fundamental for change to occur. But this must not be where we stop. Regular assessments and well devised and implemented policies are key. In a developing and demanding global culture where the delineation between work and other areas of life is increasingly blurred, this report demonstrates that we can, with the right tools and emphasis, recalibrate, and find better balance." (TL)
UK launches consultation on AI and IP – The UK government has launched a consultation on how the copyright and patent system should deal with Artificial Intelligence (AI). This consultation is seeking evidence and views on the extent to which patents and copyright should protect inventions and creative works made by AI, as well as possible measures to make it easier to use copyright protected material in AI development. The Government previously sought views on the interaction of AI and IP (and the impact of AI on the IP framework), but is now seeking evidence and views on a range of options for possible changes to patent and copyright law which may address these issues. Science minister George Freeman said: "As one of the most digitally advanced economies, we want to create the best environment for artificial intelligence companies and innovators by ensuring our copyright and patent system is a catalyst for them to thrive, making the UK the natural home for ground-breaking research and development." The consultation is led by the UK Intellectual Property Office, with CEO Tim Moss adding: "The UK is considered one of the best IP environments in the world. To help keep it that way we are looking ahead to embrace the challenges that AI brings, and the opportunities to unleash innovation's potential. An accessible, efficient and balanced IP system is a powerful tool in helping innovation and creativity to flourish." The consultation will last for 10 weeks, ending on 7 January 2022. (TL)
Brand radar:
IVY PARK, Peloton and adidas collaborate on apparel and footwear collection – Beyoncé's IVY PARK, Peloton and adidas have joined forces to launch an apparel and footwear collection. The collection is meant to celebrate the "joining of music, sport and fashion". A campaign will run to promote the collection. It will "highlight the human body" and will feature several Peloton instructors. The line will be launching globally on 10 November. (BD)
Jessica Simpson regains control of her self-titled brand – Jessica Simpson and her mother Tina Simpson are regaining ownership of the Jessica Simpson brand after the parent company of the Jessica Simpson Collection fashion line filed for bankruptcy in August, reports License Global. Sequential Brands Group bought a majority share of the company from Camuto Group in 2015, which meant the Simpsons owned a minority stake in the business (37.5%). They are now in full control of the brand after Sequential Brands Group made its Chapter 11 filing. "For all of our hard-working, talented, amazing licensing partners, to know Jessica is at the helm gives them strength and belief in the future," Tina Simpson told Footwear News, which originally reported the story. "And for Jessica to regain control of her namesake brand, it allows her and I, alongside our amazing team, licensing and retail partners to build the legacy brand to carry on to her children and family." (BD)
Mattel expands licensing relationship with Disney – Mattel has closed a licensing agreement for Disney and Pixar's "Lightyear," the origin story of the famous "Toy Story" character. The American toy manufacturer already has licensing relationships for the "Toy Story" and "Cars" franchises, among others. Richard Dickson, president and CEO at Mattel, commented on the deal saying: "At Mattel, we treat our licensors' properties as if they were our own. For more than 15 years, Mattel has collaborated with Disney and Pixar to bring their amazing content to life with our innovative products and marketing initiatives. We are excited to further that collaboration by introducing a line of toys and play experiences for fans of all ages to enjoy, to infinity and beyond." Mattel has secured global licensing rights to develop toys, such as action figures and playsets, for the new franchise. The collection is expected to launch in the summer of 2022. (BD)
Genius Brands International scoops up WOW! Unlimited Media – Genius Brands has entered a deal to acquire WOW! Media. WOW! CEO Michael Hirsh commented on the announcement saying: "I'm excited to work with Andy and the Genius Brands team. This is a powerful partnership that brings immediate and significant value for shareholders. We bring production capacity, new IP, and a robust and profitable YouTube Network with over a billion views per month. Genius Brands, with Kartoon Channel!, has a fully distributed footprint where our content can thrive and also help Kartoon Channel! itself expand. Genius Brands' world class consumer product licensing team led by Kerry Phelan, will enable us to monetise all of these great characters and brands." The deal shows the value for buyers in picking up content, and more specifically, recognisable and beloved brands. Genius Brands will be able to build its presence as a broadcaster, but it will also use the new brands under its portfolio to improve its position as a consumer product licensor. (BD)
Office radar:
(For the latest coronavirus-related updates from national IP offices, please read our dedicated article, which is being continuously updated.)
Gina M Raimondo to chair Council for Inclusive Innovation – United States Secretary of Commerce Gina Raimondo has announced her new role as chair of the re-branded Council for Inclusive Innovation (CI2). The entity and its forerunner the National Council for Expanding American Innovation were born out of a recommendation in the USPTO's 2018 SUCCESS Act study and will assist the USPTO in developing a comprehensive national strategy to build a more diverse and inclusive innovation ecosystem. "Together, as a council, it is imperative that we continue working to expand American innovation by tapping into the strength of our nation's diversity and increasing opportunities for all innovators and entrepreneurs who are creating new technologies, companies, and industries," wrote Secretary Raimondo. "With the most recent data from the US Patent and Trademark Office indicating that only 12.8% of inventors listed on patents granted in a single year are women, and little to no data on the participation of other underrepresented groups, we can all agree that there is much work to be done to build a stronger and more inclusive innovation sector." (TL)
UMG and the UKIPO team up with WIPO for Creators – Universal Music Group (UMG) has become the first corporate sponsor of WIPO for Creators, an initiative that aims to ensure that creators are recognised and fairly rewarded for their work by increasing knowledge and awareness of their IP rights. Launched by WIPO and the Sweden-based Music Rights Awareness Foundation, the public-private partnership supports IP rights for creators across the arts, including music, literature, audiovisual creation, and the dramatic and visual arts. "It is a great pleasure to welcome UMG to the WIPO for Creators family and to see a music company of UMG's stature take a leading role in our efforts to promote awareness of IP rights among creators around the world," said WIPO director general Daren Tang. "The benefits of this partnership will be far-reaching and critical, especially to creators in developing countries where artistic talent abounds. We look forward to working with UMG on involving other major players to make sure the benefits of WIPO for Creators are felt near and far." A day after the sponsorship was announced, the news also broke that the Intellectual Property Office of the United Kingdom (UKIPO) has joined WIPO for Creators as a partner, marking the first member state body to link up with the initiative. The UKIPO will support the delivery of the Creators Platform, which aims to raise awareness and increase knowledge of creators' IP rights, with a focus on navigating the structure, processes and complexities of the creative industries and rights management. UKIPO CEO Tim Moss said: "Creators need access to the right information to help them make informed decisions. That is why the UK is delighted to play an active role in supporting the WIPO for Creators initiative. This exciting project aims to provide artists and others involved in the creative process globally with access to key information which will support them in their careers. We invite other Member States to consider joining this important and timely initiative." (TL)
SAPI promotes gender equality in IP – Venezuela's Autonomous Intellectual Property Service (SAPI) has participated in a WIPO virtual webinar as part of an initiative to promote gender equality within the intellectual property sector. The registry director general Ricardo Javier Sánchez noted that "the idea is to reduce the existing gap in the field of innovation and increase the number of women who participate in the IP system through the expansion of knowledge and skills". Furthermore, SAPI's director of international relations, Orlando Salazar, revealed: "We are going to prepare a report that allows us to make the necessary recommendations, so that the SAPI generates public policies on gender and helps women to be more actively incorporated into this process." (TJL)
Alicante and Tokyo shortlisted to host 2023 World Design Assembly – The World Design Organisation (WDO) has announced that Alicante has been shortlisted, together with Tokyo, to hold the 33rd World Design Assembly (WDA) in 2023. A multi-day event that convenes participants from more than 40 countries, WDA addresses a number of key issues affecting the future of design as well as matters related to the WDO's mandate. In June, in collaboration with local partners, the EUIPO presented a candidature bid for Alicante to host the 2023 event, the office stating that the proposal underlined Alicante's commitment to the world of design and the systems of protection around it. Christian Archambeau, executive director of the EUIPO, stated: "We are delighted to be nominated for such a prestigious honour. Design protection is one of our key areas of activity, and we have always held design close to our heart at the EUIPO. We believe firmly that, through close cooperation with the World Design Organisation as well as local partners, we can ensure that design will continue to grow stronger, into the future." (TL)
Law firm radar:
Samantha Butler joins the Law Office of Stacy J Grossman – The Law Office of Stacy J Grossman has added a new associate to its ranks, Samantha Butler. Butler's practice focuses on trademark clearance, prosecution and contentious matters. She previously practiced at Donovan & Yee. (BD)
And finally...
WTR's latest Special Report explores how to manage the brand balance sheet – The ability to measure and record brand value is crucial for a host of business reasons: to gain a 360-degree insight into an enterprise's worth; to measure a company's health or product offerings; to calculate licensing royalties; to determine potential reputational hits and damages in dispute scenarios; to underpin M&A decision making. The list goes on. WTR's latest Special Report takes a deep dive into brand valuation, the reporting of intangibles and strategic best practice for brand leaders. As well as tracking recent developments in the industry and presenting a guide to the fundamentals of valuation practice, we focus in on key trends, the companies that own the most valuable brands and their financial performance. In addition, we present a rundown of the most valuable brand acquisitions since 2000. WTR subscribers can access "Managing the brand balance sheet" here.