Amazon and Toyota CEOs top male-dominated brand ambassador ranking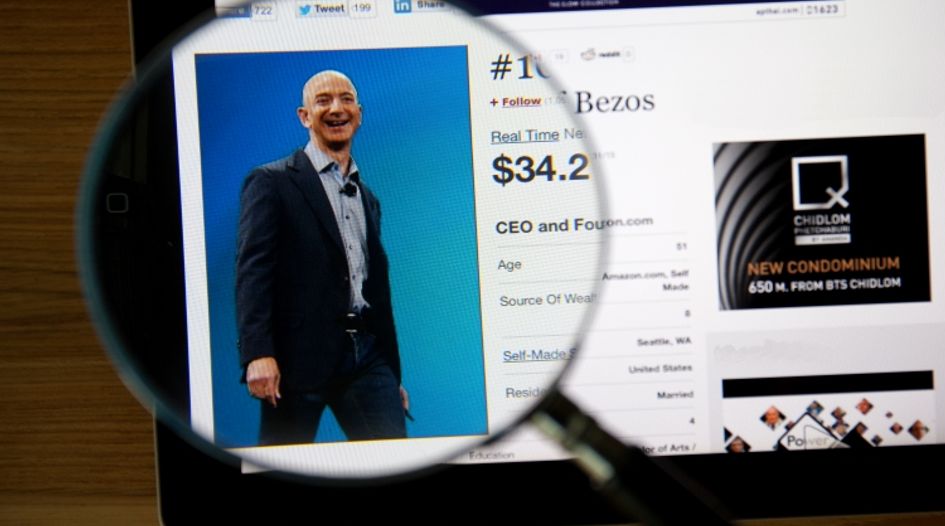 New ranking measures CEO brand guardianship qualities, with Amazon's Bezos top
US company CEOs dominate, but Chinese executives are quickly catching up
Only three women make the top 100 list, with just one in the top ten
A new study that measures and ranks corporate CEOs as brand ambassadors has ranked Amazon's Jeff Bezos in top spot. While the research highlights the important role that senior management play in building brand value, it also further highlights the gender disparity that exists at the higher echelons of company management. 
Studying the world's top companies by portfolio brand value, the 'Brand Guardianship Index' rates CEOs on how they measure up as brand managers and ambassadors. The data is based on the upcoming Brand Finance Global 500 list, with the specific metric for this ranking based on a score of 1-100 and considers multiple factors reflecting the activities of CEOs and their success in marketing investment, stakeholder equity, and business performance.
In terms of headline finding, Amazon CEO Jeff Bezos is ranked as the world's best brand guardian, while Toyota's Akio Toyoda takes second spot. The latter is notable as Toyoda previously came under fire for his handling of a 2010 scandal resulting from faulty accelerator pedals linked to dozens of deaths and injuries. This serves as an example of how CEOs can turn perceptions around, with Toyoda having admitted his mistakes in public hearings and adopted a crisis communications strategy.
The ability to steer a company through choppy waters is one way that CEOs can prove their mettle as brand ambassadors. In this regard, in the press release announcing the rankings, Brand Finance points to Alex Gorsky, CEO of Johnson & Johnson, who ranks number 26 on the list: "This suggests a strong CEO able to hold their own in the face of challenges, especially those posed recently by the talcum powder asbestos scandal and subsequent global apology issued by Gorsky. The brand was hit by a $50.0bn drop in market value of the company stock, however the response provided by its CEO proved enough to weather the storm and regain brand trust in the face of such a public reputational crisis."
David Haigh, CEO of Brand Finance, expands: "The role of the chief executive officer has totally evolved as we navigate the era of personality CEOs where public scrutiny is equal to that of a celebrity figure. It is no longer enough to have a vision for the brand's future. It is about forging an authentic public profile and reacting earnestly to reputational crises – especially as customers become more discerning in their experiences and expectations."
The top 15 CEOs, then, are listed as follows:
| | | |
| --- | --- | --- |
| CEO | COMPANY | Brand Guardianship Index Score |
| Jeff Bezos | Amazon | 72.4 |
| Akio Toyoda | Toyota | 71.6 |
| Bernard Arnault | LVMH | 68.4 |
| Tim Cook | Apple | 66.9 |
| Robin Li | Baidu | 64.7 |
| Ginni Rometty | IBM | 64.7 |
| Zhongguo Liu | Wuliangye | 62.5 |
| Bob Iger | Disney | 62.4 |
| Qingping Li | China CITIC  Bank | 62.2 |
| Satya Nadella | Microsoft | 61.5 |
| Fred Smith | FedEx | 60.8 |
| Reed Hastings | Netflix | 59.4 |
| Sundar Pichai | Google | 57.7 |
| Patrick Pouyanne | Total | 57.2 |
| Dennis Muilenburg | Boeing | 56.9 |
Unsurprisingly, tech features prominently across the top 100, with the CEOs of Apple, Microsoft, Netflix, Google and Facebook all appearing in the top 20 - with Apple's Tim Cook the leader amongst them, Brand Finance noting that "he is credited with successfully building upon the Apple reputation and legacy left by Steve Jobs, and establishing his own highly effective business model". By contrast, Facebook's Mark Zuckerberg came in at 16th place, with Brand Finance observing: "Shares of the social network tumbled as Facebook faced a barrage of attacks about ways in which the platform was manipulated to spread false information and for Zuckerberg's insufficient and controversial responses to these very public misgivings. Despite repeated calls to remove him from his dual role as chairman and CEO, Facebook's board of directors remain powerless; which has effectively triggered a cycle of mostly negative media coverage for Zuckerberg."
Perhaps equally surprising is that US companies dominated – accounting for 37% of the top 100. In second place geographically was China, which boasted 22 ranked CEOs. The latter reflects the onward march of Chinese brands, which reflects their increasing presence on the Global 500 most valuable list.
The country breakdown of the top 100 is as follows:
United States – 37;
China – 22;
France - 9;
Germany - 8;
United Kingdom – 5;
Japan – 4;
Canada - 2;
India - 2;
Spain - 2;
Sweden - 2;
Belgium - 1;
Ireland - 1;
Malaysia - 1;
Netherlands - 1;
Russia - 1;
South Korea - 1;
Switzerland – 1.
A more depressing finding is that only three women make the top 100 list, with just one (IBM's Ginni Rometty) in the top ten. General Motors' CEO Mary Barra was ranked at 39, while KPMG' Lynne Doughtie came in at 73. The hope is that future lists prove a little more diverse. However, as long as gender inequality exists at senior management level, any rankings based on the CEO layer in the world's most valuable brands will inevitably be gender-skewed. As the Brand Finance release notes, across Fortune 500 companies, women CEOs number just 24 – and that is down from 32 a year ago.
It is also important to acknowledge that the ranking is not a definitive list of the world's top CEO brand ambassadors. The ranking – which is to be presented at a World Economic Forum event in Davos discussing the role of CEOs in shaping brands and reputation – is restricted to a finite universe of brands, specifically those that boast the most valuable brand portfolios. Of course, there is the argument that these CEOs should therefore be the biggest brand ambassadors, but it does mean that there is a universe of companies not considered. And in smaller organisations that are not included, there will certainly be executives who will be passionately beating the drum for their brands and in some instances are able to make significant 'brand-focused' financial decisions that other companies, which are often beholden to shareholders, could not.
Ultimately, of course, all CEOs should be brand ambassadors: all are the stewards of the company and therefore protecting its identity and what it stands for is a fundamental requirement of the role. A CEO that is not a brand ambassador, frankly, is failing at the role. However, the ranking does provide insight into the company executives that are deemed to be most brand-focused. Any study that serves to recognise and encourage senior management buy-in to the brand message is to be welcomed.