Amazon aims to accelerate IP adoption with new initiative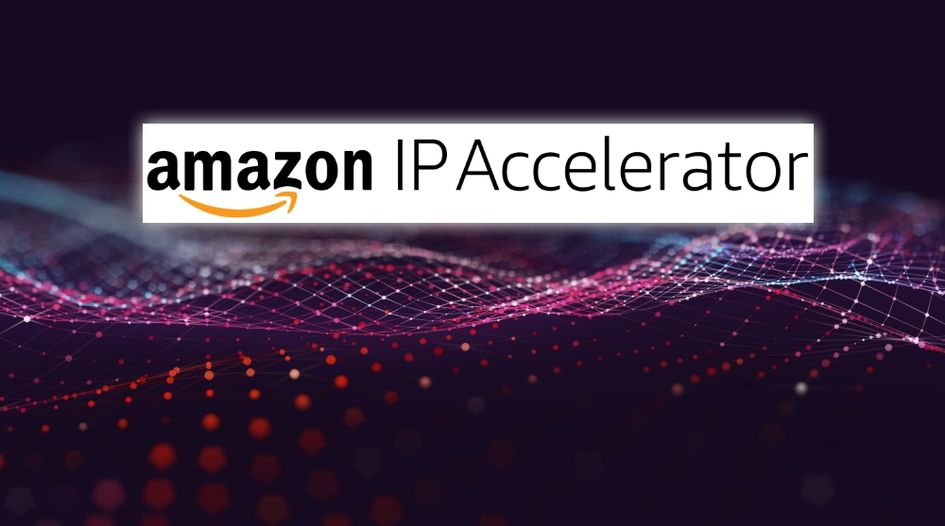 New Amazon programme connects SMEs with law firms offering negotiated rates
Helps SMEs make US applications to get expedited access to brand protection tools
Company executive confirms that, in time, the programme will roll out internationally
Amazon has announced the launch of its Intellectual Property Accelerator programme, which – with assistance from a panel of vetted law firms – is designed to help companies more quickly obtain intellectual property (IP) rights and access the tech giant's brand protection offerings. Speaking to WTR, Dharmesh Mehta, vice president of worldwide customer trust & partner support, expands on the company's plans for the programme.
IP Accelerator has been created with small and medium sized enterprises (SMEs) in mind and is geared towards making it easier and more cost effective for them to secure trademark protection by providing access to a panel of law firms which are offering preferential rates for prosecution work.
Mehta explains: "IP Accelerator does three things. First, we have curated and vetted law firms that are great at securing trademarks, and other forms of IP. Two, we have worked with them to renegotiate competitive discounted rates to obtain trademarks. And three is that – rather than wait for six to nine months, or sometimes years, to register their trademarks and be able to protect their brands – those that use a law firm through IP Accelerator get immediate access to the brand protection capabilities on Amazon once they file."
As to how the law firm introduction works, Amazon already has a Service Provider Network offering which connects businesses with different types of professional service – whether around marketing, advertising, product building, etc. As of today, users will be able to access IP-related services via the interface, as well as see customer reviews of the individual firms.
Mehta notes that Amazon acts solely as an introducer and does not charge for the service ("we just help them find the right law firm") or get involved in the subsequent relationship, explaining: "Businesses have access to directly contact the firms and after that point we then let the brands and law firms work directly. And that relationship can go anywhere – it can be about filing a trademark or building an entire brand protection programme. We get back involved once the law firm files for the trademark on behalf of the brand, and we then work with the brand to get it into our brand registry and turn on the programmes".
At that point the business can access Amazon's various brand protection offerings – specifically, they can utilise the 'Report a Violation' tools to search for and report potentially infringing listings, benefit from Amazon's automated brand protection offerings (which proactively remove such listings) and make use of a range of brand building capabilities.
Reflecting on the programme, Mehta says: "While we care about all brands – whether large, multinationals or small to medium sized businesses – IP Accelerator came out of a specific set of insights around SMEs and the struggle they have obtaining IP rights, as well as the long timeframes before they can protect their brands… [So while] a lot of our innovations have been focused on how we better protect a brand, this is one of the first that is about looking earlier in the lifecycle and how we help emerging brands that are just starting out."
At the centre of the programme are the participating IP firms, which includes such names as The Sladkus Law Group, Neal & McDevitt, and Dunner Law. From Amazon's perspective, applications filed via these vetted firms are strong candidates for registration and therefore the company feels comfortable providing the respective applicants with accelerated access to its suite of brand protection offerings.
In terms of the vetting process itself, Mehta explains that Amazon's own legal team drove the process ("it was a set of individuals with deep IP experience") but they were tasked with not opting for entities that they currently send work to: "Ultimately these law firms are firms that we think are great but we are not currently using to ensure there is no conflict of interest anywhere in this process."
From the law firm's perspective, the relationship provides access to a set of potential clients that are interested in trademark protection and proactively seeking help. For now, the focus is on US firms that can file US marks – as well being able to support brands globally – but Mehta expects that the programme will eventually be rolled out internationally: "Top of our mind in terms of expansion will be geographic footprint and how we help brands file in other countries….  I don't have specific dates but as we launch new capabilities, we also look for everything we build to be global. We will take this around the world."
Crucially, both in the US and (eventually) internationally, there will be opportunities for other qualifying firms to participate: "It's a closed program in the sense that everyone on there is individually vetted by us but we absolutely want more law firms. We started with roughly ten, and we will keep adding more. We wanted to start with enough to provide a diversity in skills and the languages they support, and that can handle the volume of work. But we expect more firms will want in and more brands will be interested, which will cause us to keep adding more and more."
Of course, in the immediate term this will mean increased demand for trademarks at the USPTO – an agency that is already wrestling with rising application numbers and a wide variance in the quality of submissions. Mehta contends that Amazon's new offering will help in that regard: "It's been interesting as the trademark office is keen to empower SME entrepreneurs but is also super focused on ensuring a high bar for applications they are getting. A number of offices have seen a flood of low quality applications and that's not good for anyone. So early qualitative feedback on has been positive – the more we can do to help trademark offices get high quality submisisons from curated quality law firms, the better it is for them."  
Turning to the wider picture, Mehta told WTR that, overall, brand engagement in Amazon's various protection programmes is growing. The Brand Registry currently boasts over 130,000 brands, with 3,000 participating in Project Zero, which combines automated takedown protections (Mehta stating that, for every one infringing listing a brand removes, the automated system is blocking and removing 500), self-service tools and a product serialisation service designed to allow Amazon to individually scan and confirm the authenticity of products that are purchased in its stores. Around 4,000 brands are also specifically taking part in its Transparency product serialisation programme.
The goal behind Project Zero is – as the name suggests – to "drive counterfeits to zero" on the Amazon platforms. On the face of it that seems an impossible goal but Mehta contends: "I'm an optimist by nature – I do think you can get counterfeits to zero." He notes that, of the companies that have enrolled products in Amazon's serialisation offering, and additionally benefit from automated protections, have not had to utilise the self-service takedown tool – suggesting that the combination of tools is working.
He concludes: "It speaks to the power of doing this through technology at scale, it truly requires partnership between us and the brand. But it's a signal to us on how powerful it can be. It's early days and we will continue to learn – and I'm sure bad actors will try to find workarounds. We do believe we can drive counterfeits to zero, but it will rely on continued innovation, and collaboration and partnership with brands."