Alibaba commended, PIPCU needs you, RPMs review update: takeaways from Brand Protection Online Europe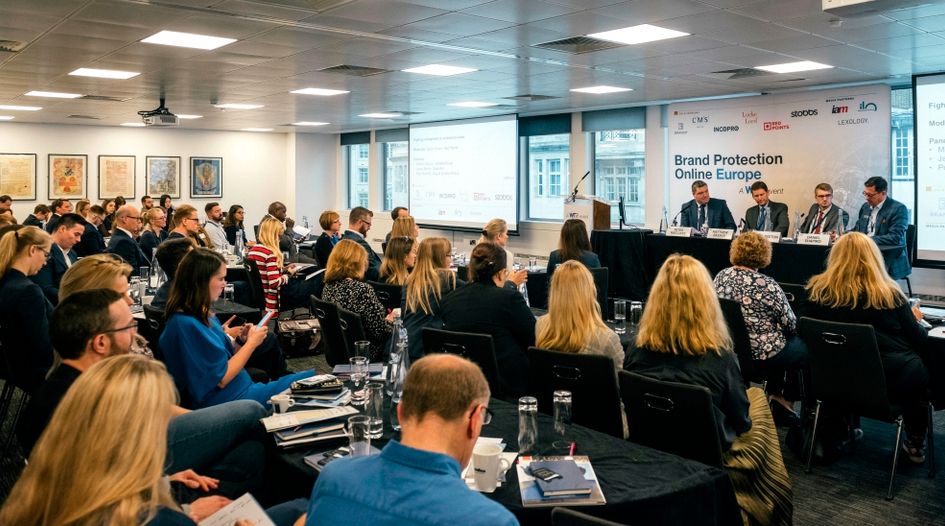 WTR held its latest event, Brand Protection Online Europe, in London yesterday
Speakers came from a variety of brands, including Alibaba, Dyson and Maus Frere
Highlights included world-first brand protection award from London Police
WTR held its inaugural Brand Protection Online Europe in London yesterday (14 October), which featured a packed room of attendees and speakers from brands including Daniel Wellington, PayPal, Superdry and Tommy Hilfiger.
As with any WTR event, attendees left with a variety of new insights to use as part of their brand protection strategies. Below we present some of the highlights from the day, including key learnings and tips from the esteemed panels across the day.
Alibaba receives police commendation – The Police Intellectual Property Crime Unit (PIPCU), which is  a department of the City of London Police, has been toiling against counterfeiting and piracy for a number of years now. For the success of the unit, collaboration is key and sometimes it is important to recognise the work of partners. In this spirit, detective superintendent Peter Ratcliffe used the event as a platform to issue the City of London Police's first ever Award for Excellence in IPR Enforcement to Alibaba. The official accolade "is in recognition of Alibaba Group's significant contributions and valued partnership in offline criminal investigations involving traffickers in counterfeit goods, as well as its demonstrated leadership in ensuring that pirate sites do not profit from advertising revenue". Ratcliffe added: "We also officially recognise and thank Alibaba for its high level of dedication, cooperation, and professionalism in overall IPR protection. Lastly, it would be remiss of me not to mention the advanced and ongoing collaboration embraced by Alibaba's Global IP team. And, although they shy away from accepting individual credit, the City of London Police wishes to specifically thank Matthew Bassiur, Graham Clemence, and Stephanie Yu for their substantial assistance in the fight against counterfeiting and piracy." It is a notable achievement and, speaking to WTR moments after receiving this inaugural award, Alibaba's Bassiur stated: "Alibaba is honored and humbled by such positive recognition, and we will continue to enhance and advance our IPR protection efforts." 
PIPCU needs you – Speaking onstage prior to making the aforementioned presentation to Alibaba, Peter Ratcliffe, detective superintendent, national fraud lead at the City of London Police, was keen to highlight the importance of industry collaboration with The Police Intellectual Property Crime Unit (PIPCU): "The key role for me now is engagement with stakeholders and the community. That's never been more of a focus than now for us. When I first joined, police work was seen as being our business, but we're a small team covering the whole of the UK and we need your help to do that. It's a vast network with many sectors and it's very resource intensive to take out organised crime groups." Ratcliffe and his colleagues work with trade associations and engage in outreach at events, but are keen to encourage rights holders to speak to them. They are also welcoming of additional support -  for instance via secondments. Ratcliffe identified a number of associations and corporations, including the MPAA and Sky, that have embedded staff with the unit, which has been invaluable in developing deeper expertise. He concluded: "At the end of the day, we're police officers and we can't know everything. Intelligence sharing is important. It's really all about working together." The door is clearly open for brands wishing to enlist in PIPCU's efforts against infringement.
Bringing in consumers as brand allies – In the previous issue of WTR, we looked at how the public can help with the fight against counterfeit goods. It was a topic that was raised a number of times during the first session of the day. Zeeger Vink, IP director at Maus Freres, said that the key to effective brand protection management online is to "look at what the consumer sees", adding: "We have to analyse their behaviour online and then use our legal tools to keep up." One of those ways is to enlist consumers to help. "There was initially resistance as companies don't like to talk about what they're not producing," he noted. "If you tell a consumer not to buy counterfeits, you have to also show them where to buy authentic. We put in direct communication channels with us. It's important for a consumer to be able to tell you where the problem is. It's free and you'd be surprised how many people are willing to help you." That strategy has worked, Vink revealed, with plenty of information on fakes that the brand protection team had not previously been aware of. "It is surprising how many people really want to help," he said. "It is as if they are almost employees, and it would be a waste to not use that information." Of course, there are risks associated with bringing in consumers to crowdsource information on fakes – but for many brand owners, the rewards vastly outweigh them.
Measuring the immeasurable: ROI on brand protection efforts – INCOPRO's Helen Saunders kicked off a discussion on measuring brand protection ROI with some audience participation. She asked the delegates to raise their hands based on each potential way to quantify the value of their work. All the options received merely a smattering of hands from measuring financially, through time spent, internal resources dedicated, and successes. An attendee offered the possibility of measuring through compliance rate. For her part, Tonino Lamborghini's Eva Costantini noted that the Italian way to understand if your brand protection strategy is effective is all about the feeling: you have ultimately won if you have raised awareness inside your company about the problems (another indicator of success being that she is invited to share her experience and insights at events such as this one). Johnson Controls' James Graham offered a pragmatic approach with the impetus to measure the size of the problem as accurately as possible with the refrain: "If you don't measure it, you don't care about it." For those in the brand protection field, while there is no one size fits all approach, it is clearly critical to have a sense of how you measure success.
It's time to take control – In the afternoon session focused on the changing domain name landscape, a number of strategies were raised for more effective management of a domain portfolio. According to Jesper Knudsen, CEO of BRANDIT, most brand owners don't treat the issue seriously enough. "Most companies have a meeting or two and then think they have an effective domain strategy set," he said. "But when it comes to action, there's often a lack. Domain name strategies need to be treated extremely carefully, so time must be invested to do it professionally." Part of that discussion must be considering the risks when monitoring and when, and how aggressively, to pursue cease-and-desist letters. He noted that, with the growing domain environment (due to new gTLDs), it is now "impossible to manually monitor". Knudsen added, though, that it is a brand's own domains that are just as important to track because "if you can be hacked, you will be hacked". Indeed, moderator Julius Stobbs from Stobbs IP agreed, saying it's "surprisingly often" that clients have little understanding of the domains they own or need to protect. Another speaker, Martin Sutton from the Brand Registry Group, said all brand protection professionals need to understand their entire domain portfolio and what are the 'critical domains' that need to be protected at all costs. "Wrap those critical domains in lots of protective cotton wool, then maintain control and limit the people that have control of them."
What to expect from the RPMs review –  In a session focused on new gTLDs and the changing domain name landscape, the current review of rights protection mechanisms was highlighted, with a number of contentious issues identified for engagement for rights holders. One relates to geographical indications, Susan Payne, head of legal policy at Com Laude Group, explaining: "The operator of the Trademark Clearinghouse (TMCH) has been accepting GIs under the header of marks  protected by statutes and treaties. However, the working group feels that this was not what was intended and that this group was for marks like Red Cross. So one recommendation that is likely is that GIs will not be covered in the TMCH going forward. This will go to public comment so if GIs matter to you, you will want to comment."  Other possible recommendations that may be coming down the road is for TMCH data to be public and whether marks with a design element should be accepted. These are all issues that brand owners should engage with, not least to ensure that the IP community's voice is heard - Martin Sutton concluding: "The benefit of ICANN's multi-stakeholder meeting is that anyone can get involved. The downside is that anyone can get involved. So it is crucial to engage and respond to public comment periods."
Work with registries and platforms – Red Points' Daniel Shapiro moderated a discussion on how to utilise the relationship with registries and ecommerce platforms for more effective takedown requests. Superdry's James Beeton and City of London Police's Peter Ratcliffe spoke about their experiences, with Ratcliffe noting the phenomenal work that the Police have achieved through their relationship with Nominet. Together, they have taken down over 100,000 infringing websites, 48 hours after the Police statement. Nominet has just announced a policy consultation to help reduce phishing activity on '.uk' domains, which is one to engage with. Beeton also brought attention to the work being done by the ecommerce giants Alibaba and Amazon. However, he did call for more data transparency on the takedowns made by platforms. "I'd love to know what products were removed, and in what quantities. It's fantastic to know they are being removed, but to know where they're based would be so helpful. It's a tricky on especially with GDPR," he admits. Finally, Shapiro emphasised that when talking about infringing ecommerce listings, that we should remember who the bad guys are. "Often we rely on the platforms to do the heavy lifting," he said, noting the stellar work actually being done to remove infringers from the marketplace.
The app environment is the new playground for infringers – In the session on apps and social media, there was a clear sense that apps will increasingly become the online battleground for trademark enforcement, with takedown often a challenge. Jennifer Chung, general counsel at AccuWeather, noted: "We've found apps that look like ours on black-market sites. They were using our data, but they weren't our apps. How do I take these down when there's no policy on the site? There's no email, there's no contact. What's the solution?" Superdry's James Beeton added: "What was the case five years ago where people will use an online marketplace to sell a product, is now a lot less common. Now we're monitoring social media and apps. An app might have a listing active for a day, and if you don't catch that on the day, it's gone. We're dealing with something much more ephemeral." Critical to success, alongside proactive policing, is a strong relationship with marketplaces - or at the very least, a good sense of their takedown processes.
GDPR setting the global template – In the final session for the day, Brian Scarpelli, the senior global policy counsel for ACT, described the eventual ascension of the US to a framework similar to GDPR. Although nothing is likely to come of it this year, ACT are currently negotiating on Capitol Hill to create a cross-sectoral national privacy framework. He notes that bipartisan efforts are addressing privacy, with GDPR a mainstay of considerations. California has led the way on a state level with the California Consumer Privacy Act (CCPA) and Scarpelli expects Washington and New York states to follow suit. He notes it is important for data privacy laws to follow the pattern of data breach laws "with there being 50 different laws, some of which conflict." Assistant general counsel, digital and privacy for Coty, Michelle Levin added that China and Brazil's new privacy law mirrors GDPR. Clearly, while GDPR has been the focus, data privacy legislation is set to become the new normal across the globe.
Data privacy, a new branding opportunity? – While data privacy legislation can cause enforcement headaches, is there a positive pay-off for brands? Coty's Michelle Levin ended the final session on an intriguing note, considering the potential for privacy to become a core part of a brand's image. "Privacy is about trust. When you have a brand, building that is about trust. I'm encouraging my brand team to think of privacy as an integral part of the message to our consumers," Levin explained. A call for more data transparency from consumers should be responded to with brands becoming trusted through their open communication of what their data is used for. This in turn will keep the market from being uninformed when it comes to fears over data misuse. Dyson's category head for IP enforcement, George Sevier added that company founder James Dyson was conscious of how people's trust in the brand can be shattered by data misuse long before GDPR. In fact, the company refused to require more data than necessary from their buyers, creating a sense that consumers recognise Dyson use data in only the right ways. Finally, an interesting question came from the audience: What about young consumers offering to pass over additional data for discounts and deals? Levin responded that there must always be a choice to opt out of additional products and services. However, collecting data in return for giving users something they want is far less likely to result in a complaint. Ultimately, it underscored a shift in the way ownership of data is considered and the way it is valued and used.
WTR would like to thank all of the speakers, sponsors and attendees who made the inaugural Brand Protection Online event such an informative day. The next WTR event taking place in London, on 28 January 2020, will be Managing Trademark Assets Europe. Full details are available here.