Air New Zealand's CEO on controversial application, praise from Peppa Pig and a blow for adidas: news digest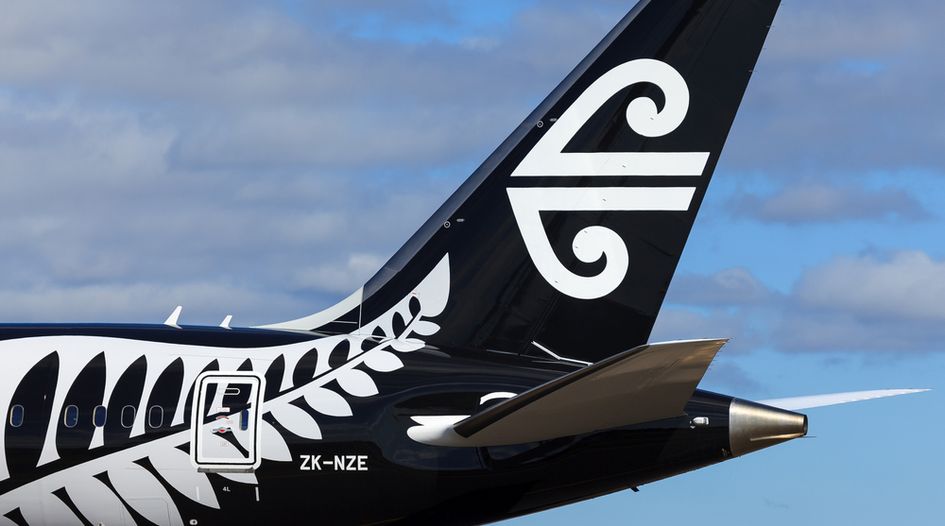 Every Tuesday and Friday, WTR presents a round-up of news, developments and insights from across the trademark sphere. In our latest edition, we look at the backlash centred on a SAGA-branded customer brochure, the latest on Air New Zealand's controversial Kia Ora application, a China IP firm reportedly mulling a sale, and much more. Coverage this time from Bridget Diakun (BD), Tim Lince (TJL), Trevor Little (TL) and Jonathan Walfisz (JW) 
Market radar: 
Descriptive logos 'could boost net sales' – New research has found that descriptive logos (ie, logos that contain text or visuals that communicate what product or service a brand offers) can tangibly boost sales compared with non-descriptive logos. The research, published in the Journal of Marketing Research, compared the impact of logo design for over 420 brands. Analysis of these logos allowed researchers "to explore the effect of descriptive logos on net sales", with the result being "that a descriptive logo has a greater positive effect on sales than non-descriptive logos", according to WARC. However, the study further found that this effect lessens for more well-known brands. "We observed that although having a descriptive logo had a positive effect on brand equity for both familiar and unfamiliar brands, the magnitude of this positive effect was much smaller for the familiar brands," said one of the study's authors. "If you are considering creating or modifying a logo, our findings suggest that you might want to include at least one textual and/or visual design element that is indicative of the type of product or service your company offers." For brand professionals, the research is a reminder of the power of brands – so powerful, in fact, that even a simple logo can affect whether a consumer reaches for their purse or wallet. (TJL)
China Sinda IP law firm valued at $300m considering sale – Beijing based firm, China Sinda Intellectual Property Ltd is considering its sale options after investors from public equity firms have expressed their interest, reports Bloomberg. The firm with almost 200 attorneys and global offices from Beijing to Washington DC has been valued at around $300 million by financial advisors, although deliberations and negotiations continue with the owner potentially retaining a business stake. (JW)
Peppa Pig praises China's IP protection efforts – Speaking to China Daily, Tim Pfeiffer, the senior vice-president of business affairs for the family & brands division at Entertainment One UK (the company that manages Peppa Pig) has praised the introduction of China's internet court, which he contends has allowed China to better adapt to the digital environment. Entertainment One recently obtained a court order from the court ordering car-sharing platform Beijing Togo Technology Co to cease its infringement of the Peppa Pig trademark, Pfeiffer observing: "'Convenient, fast and intelligent' describes the process of this litigation case. The modular design of the entire process allows complex litigation processes to be understood at a glance." He added: "This case is, to some extent, a landmark judgment in the development of China's IPR protection. It is the manifestation of how China is steadily implementing guidelines to effectively promote the creation and application of intellectual property rights and more strictly implement the IPR protection system." We have previously spoken to the company's IP team about its protection efforts in China and this latest piece illustrates how the trademark department is willing to embrace new forums in its bid to protect the beloved brand. (TL)
Apple files for 'Slofie' at the USPTO – Coinciding with the release of its new iPhone 11 models, Apple has filed a trademark application for the term 'Slofie'. The term was first mentioned when Apple demonstrated the new phones' front facing camera, which is able to film in crisp slow-motion thanks to 120 frames-per-second recording. A portmanteau of 'slow' and 'selfie', Apple is most likely trying to protect themselves from other slow-mo camera marketing piggybacking on their soon-to-be-ubiquitous phrase. (JW)
Legal radar:
Air New Zealand distances itself from Kia Ora application – Last week, we reported on New Zealand's national aircraft carrier, Air New Zealand, offending the country's Māori people with a trademark application for a "Kia Ora" logo – drawing on a term that is a Māori greeting for 'hello'. According to The Guardian, the airline first applied for registration of the mark in May this year, with the logo used for its in-flight magazine. In response to the application, New Zealand's Māori Council described it as "harebrained" and "an insult to New Zealanders". Less than a week later, it appears the airline has reversed its intent. According to local outlet Stuff.co.nz, Air New Zealand chief executive Christopher Luxon waded into the controversy, and confirmed that the airline "would not be actively pursuing the application", although he added that it was would not be withdrawing the application altogether. "While Air New Zealand had set out to trademark just the Kia Ora magazine logo rather than the words themselves, we have inadvertently sparked a much-needed discussion between Māori, intellectual property law experts and Government," Luxon stated. "The current trademark situation does not reflect the sometimes differing and legitimate views of both the Māori and legal communities." In most trademark-related backlashes, it is rare to see a CEO or chief executive publicly comment – but with Air New Zealand relying on local goodwill, it appears in this case, a 'voice from the top' was required. Whether the backlash now quells will be seen. (TJL)
Rothy's resolves shoes dispute – Shoes brand Rothy's has announced that the intellectual property infringement lawsuit it instituted against OESH Shoes in August 2018 has been resolved. In its litigation, Rothy's (represented by Arent Fox) asserted that certain of its design patents and trade dress were infringed by OESH. However, the litigation has been concluded through a confidential settlement agreement and a Consent Decree, entered by the US District Court for the Western District of Virginia on September 18, 2019, which enjoins OESH from manufacturing, marketing and selling the accused shoe after 31 December 2019, acknowledges the validity of Rothy's trade dress in The Flat and its design patents, and provides for OESH to redesign the accused shoe.  The remaining terms of the settlement agreement are confidential. Marie Satterfield, Rothy's general counsel comments: "We are pleased that the litigation against OESH has been resolved amicably, and that they have acknowledged the validity of Rothy's trade dress and design patent rights. Rothy's will continue to protect the significant time and investment we've made in our innovative designs and other IP. We wish Dr. Kerrigan and OESH well as they launch their redesigned shoe and on future endeavours." (TL)
Another blow to adidas' three-stripe mark in Japan – The Japanese Patent Office (JPO) Opposition Board has dismissed adidas' opposition to a trademark registration by Marubeni Footwear. Marubeni had filed for a diagonal 2-stripe trademark, which adidas argued was likely to be confused with their 3-stripe mark. The Fashion Law reports that adidas argued consumers would associate Marubeni's mark with theirs despite theirs containing one less stripe because "a space between the stripes is another colour, and thus opposed mark looks like depicting three stripes on shoes". The JPO disagreed and considered the space between the separate stripes to be irrelevant as consumers would be able to discern between the two and three-striped marks. This comes not long after the General Court of the European Union upheld a decision of the EUIPO to invalidate the trademark registration for adidas' three-stripe branding.
Office radar:
IP Advisory Board launched by public-private coalition in Washington DC – US governmental division the National Intellectual Property Rights Coordination Centre (IPR Centre) has collaborated with the International Anti-counterfeiting Coalition (IACC) to launch the HSI/IACC IP Advisory Board. As reported, brands representing 19 industry sectors are participating in the IP Advisory Board to further the fight against counterfeiters. Over 30 participants attended the first board meeting at the IPR Centre. The IP Advisory Board is also made up of federal/state prosecutors and a group for representatives of intermediary businesses such as marketplaces, payment providers, shippers, search engines, and social media platforms. (JW)
Media watch: 
Saga outcry is a reminder of licensing terms importance – Earlier this week, The Guardian reported on a public "outcry" after UK travel company Saga seemingly sent a brochure to customers advertising a cruise "exclusively for Brits". The backlash was sparked after a Twitter user posted an image of the brochure, claiming his mother was outraged and questioning whether it was legal. The official account of Saga responded to the tweet, claiming it is "not a Saga brochure", adding: "Our partners at 'cruise.co.uk' are extremely sorry for any offence the inaccuracy in their leaflet may have caused. Saga cruises all depart from the UK but we welcome anybody, of any nationality, over the age of 50 on our cruises." However, users were quick to point out that, for an average customer, the brochure appears to be from Saga. "I hate to break this to you, but that is a Saga brochure," said one user. "It has your name on the cover. The fact that you have sold your name to someone else who has abused it is your problem, not ours." Another described the response as a "classic walk back", and asked: "As 'cruise.co.uk' are your partners, did nobody at Saga preview the draft of this [brochure] before it went public and consider the 'Brits only' line inappropriate?" The backlash from the brochure is a reminder of the risks that companies face if they allow their brands to be represented by a third-party. In this case, then, proactive terms of condition could have avoided it – perhaps through requiring any public-facing communications to be checked. For now, though, the PR disaster for Saga continues. (TJL)
Brands urged to shore up 2020 election defences – Marketing media giant AdWeek has published an article this week on why brands must figure out how to navigate the "choppy waters" of the 2020 US Presidential Election. It is based on a new survey which found that 53% of Americans believe that corporations have "become more political in recent years". Last year, that figure stood at 64%, suggesting that consumers feel brands are becoming less political. However, according to the vice president of Morning Consult, which undertook the survey, that must change. "The 2020 election is presenting a whole new set of challenges for companies," he said. A key factor of this preparation is, of course, the 'Trump factor' (indeed, we compiled the numerous brand-related incidents involving Trump and his family during the 2016 presidential election). The research states: "Engaging with Trump is still a complicated tightrope for political activism among brands. Issuing a statement about Trump – whether positive or negative – is likely to draw a major backlash." That's not to say that brands should avoid being political. The research also asked respondents how they would feel if brands took certain political viewpoints, ranking each by favourability (click here to view full table). The most favourable position a brand can hold is being an 'advocate for civil rights' (+48% favourable), followed by 'supporting the US military' (+45%), 'advocating for criminal justice reform' (+43%) and 'advocating for racial minorities' (+41%). The least favourable political positions a brand can take are 'issuing a positive statement on Trump' (-9%), 'supporting a Republican's campaign' (-7%), 'supporting stricter abortion policies' (-7%) and 'supporting stricter immigration policies' (+2%). Ultimately, even if a brand doesn't publicly take a stand on any political issues, they could be the unwitting target of Trump or any major political figure in the next 15 months – for that reason, a proactive strategy on how to respond should be drawn up. (TJL)
Domain radar: 
eeh bah gum, it's a domain decision victory – Online marketplace eBUYgumm has emerged victorious in a domain name battle against online platforms eBay and Gumtree. The marketplace had been accused of registering an abusive domain name, incorporating elements of Gumtree and eBay's branding into its web advertising. The complainants also argued that eBUYgumm's logo was deliberately similar in terms of font and colouring. The decision, delivered by Michael Silverleaf QC on behalf of Nominet, ruled that eBUYgumm was not an abusive registration that interfered with the eBay or Gumtree brands. Silverleaf QC stated that origin of the eBUYgumm brand could not be ignored (it being based on a Yorkshire phrase, eeh bah gu, which means 'oh my god') and that anyone seeing any similarity could not fail to see the substantial differences that exist. In addition, the complainants had not included any evidence that the public had made a connection between the brands. (TL)
On the move: 
Armstrong Teasdale gains two IP attorneys in big hire – Armstrong Teasdale has added four attorneys to its New York, Denver and St. Louis offices. Francisco A Villegas and Donald D Raymond Jr are joining the firm's IP practice in New York and St. Louis, respectively. Villegas has been appointed to partner. He will work with both domestic and international companies, handling litigation and transactional matters, and works across the IP spectrum, advising on issues pertaining to patents and trademarks. Raymond, of counsel, focuses on patent related matters, with particular expertise in the computer, electrical and electromechanical fields. He further is able to advise on the licensing of trademarks and copyrights. (BD)
Dentons boosts litigation bench – Dentons has hired a partner, Matthew Diskin, and associate, Meredith Bacal, to its litigation and dispute resolution group, according to an announcement on the firm's website. The two focus on intellectual property litigation and will be working out of the Toronto office. Bacal is also a registered trademark agent. (BD) 
And finally... 
Tips from the trademark industry elite – WTR is pleased to announce the publication of the inaugural edition of WTR Global Leaders. This ground-breaking new supplement presents insights from the elite of the global trademark industry, offering guidance into career development, practice management and trademark industry trends. WTR Global Leaders is available online, and free to view, here