10 tips you should know about online brand protection and trademark management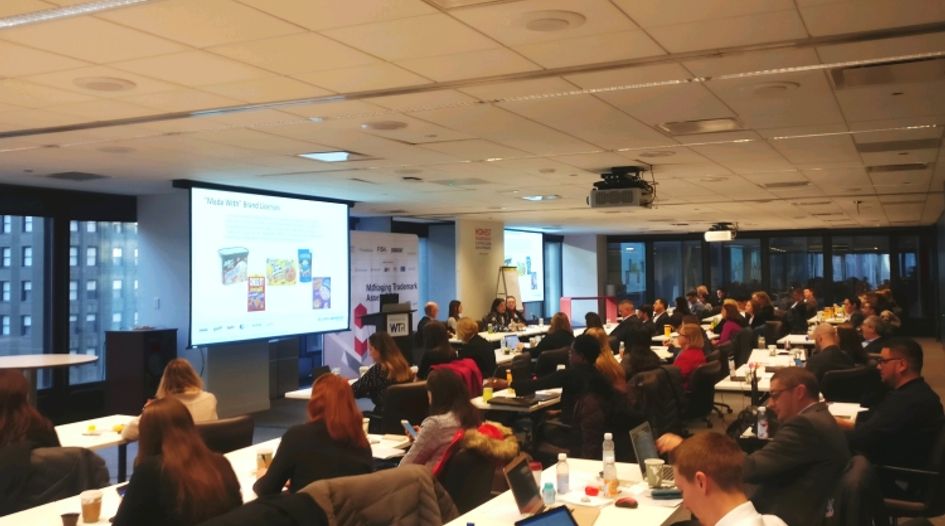 WTR hosted two major brand protection events in Chicago last week
We present a number of key takeaways to improve trademark practice
Includes need for domain audits and how to not waste enforcement dollars
Last week, WTR hosted two major events focused on protecting brands in the online environment and the cost-effective management of international trademark portfolios. We present some of the practical takeaways and discussions points from both days, including the need to audit registered domains, how to avoid wasting enforcement dollars, using infographics to teach trademark basics, collaborative cease and desist efforts, and much more.
Hosted on March 5 in Chicago, our Brand Protection Online event provided a unique forum for in-house counsel to discuss the challenges (and, in some cases, the opportunities) they face when protecting trademarks online. The next day, on March 6, we hosted Managing Trademark Assets USA, which gave senior counsel a platform to discuss successes and failures in their portfolio management. Every session on both days provided dozens of innovative solutions and tips, both from the speakers and also – due to the interactive format of the events – from audience members. Below we present just a few of the insights that were shared.
How to evidence ROI in brand enforcement efforts
One struggle for trademark teams is evidencing return on investment (ROI) when it comes to anti-counterfeiting. Yet doing so is critical for both tracking success and making the case for increased investment. There is no 'one size fits all' approach, says Daniel Shapiro, director, global strategic partnerships at Red Points, who notes that "everyone is looking for that magic button that tells them how much they're losing from counterfeits" and stating that, often, it is a case of taking what his father called a SWEG; "A sophisticated wild educated guess." However, there are methods that can be adopted. For instance. Velcro USA's Alexandra DeNeve explained that tangible results do speak volumes: "I took a screenshot of an Alibaba search page for our brand and it was an obscene number of [infringing] hits. Six months later, after enforcement work, I did the same search and the number was dramatically lower, and the first ten results were official listings from our company. Those two screenshots showed clear ROI to our higher ups." Linking enforcement success to spikes in legitimate sales can be another metric, but the key is for the business to give the trademark team get their dues. Jay Burgett, global trademark attorney at Wrigley, explained: "After a major counterfeits bust, we usually see a dip in counterfeit reporting immediately – and we normally report that to senior executives. We sometimes also see an increase in sales, although other departments often try and take credit for that!"
Online policing isn't about volume
Policing an ever-expanding universe of domains, ecommerce sites and social media can be a budget-busting task. In such an environment, argued David Cooper, vice president of MarkMonitor, brands need to accept that they just can't catch everything, noting: "If you try to monitor everything everywhere, you won't be able to track effectiveness. It ultimately isn't about volume; you need to look at where your customers interact online and then have a laser focus on that." Crucially, technology needs to be wielded effectively to help brands keep up with infringement, Red Points' Shapiro arguing: "There isn't a scalable way to deal with online marketplaces that doesn't use technology. If you don't use tech to keep up with counterfeits on online marketplaces, you'll fall behind. There is no way to do it without technology – and multiple types: deep-learning artificial intelligence, machine learning, image recognition. There's always a need for the human touch, but you need to use the strength of technology for an effective online enforcement regime."
Time to audit your domain portfolio
At a time of tight budgets, one often-overlooked way to prune spend is to figure out whether the domains a company owns remain necessary. Signe Naeve, director and corporate counsel, IP, at Starbucks Corporation, recounted: "We were spending hundreds of thousands a year on [defensive] domain enforcement, and we started to question whether that was making sense from a risk/reward perspective. You can always buy something, and I was looking at our portfolio of our 3,000 domain names, so I worked to identify what are the domains we own, whether we are using them and, if so, how we are using them. Three quarters, we found, were not being used. Some were defensive registrations but others were for short term marketing campaigns that we don't use anymore. So we are now looking to work more offensively and less defensively. From that, we've narrowed down our list and are deciding whether to actually keep the others or not. If you haven't done an audit, you should."
Getting the police knocking on your door
It's long been a challenge for trademark practitioners, both in-house and in private practice, to enlist the help of law enforcement during enforcement efforts. Often it requires a mountain of evidence and a lengthy wait to speak to the right people. But Jay Burgett from Wrigley, revealed at least one police force that is ready and willing to assist. He explained that, at least from his experience, enforcement operations – especially those on the counterfeits side – are "not as expensive as you'd think" due to the police often doing much of the heavy (and costly) lifting. For that reason, Burgett's goal is to get evidence up-front to get the police on board early on, adding: "Police officials in China are getting better as they are receiving good publicity – we have actually had them knock on our door for leads as they want good press." Indeed, that could be an effective route in other countries too – if a brand owner mentions the possibility of a press release or PR outreach following a successful counterfeit haul, perhaps the police will be more likely to listen and act? It could be an approach worth trying.
Know your audience – or risk wasting enforcement dollars
For many brand owners, enforcement on social networks is often down to the popularity (measured in active users or web traffic) of social platforms – it's for that reason that Facebook and Twitter are often the most monitored social websites. Indeed, as described by Jeffrey Fridman, the global legal lead of trademark and brand operations at Accenture, "social media is probably the biggest example of the idea that jurisdictional borders are disappearing, and that suddenly every company is a global company". But is targeting the biggest social networks really the most effective and efficient enforcement method? Not necessarily, according to Sean Kolodji, senior brand advisor at Incopro. "All brand owners should consider that social networks are used in different places and by different generations," he explained. "In some countries, the only website they know is Facebook – that's the entire internet to them. You must also think of what the target audience and demographic is for your brands; older people are more likely to use Facebook most often, middle-aged people are more likely on Twitter, while younger people are on Instagram, SnapChat or even Tiktok." Therefore, if your brand is especially popular with young people, perhaps prioritising enforcement efforts on Instagram rather than Facebook could be worthwhile.
To save money, decide what really needs to be registered (and monitored)
A recurring discussion point across the events was how to free up budget and reduce costs. For many rights holders, protection is paramount but sometimes it does not make economic sense. One area where this can be the case is slogans. Sophie Anger, associate general counsel, marketing properties, global petcare at Mars Incorporated, observed: "Taglines don't last very long – they tend to change every two to three years. So it's not always worth paying for registration as, by the time you have secured it, the business has moved on." Matthew Kelly, chief intellectual property counsel at CME Group, concurred. Stating: "We learned our lesson with taglines. Even where new people came in and thought they would last forever, those taglines would fall by the wayside."
Be patient – and maybe make an infographic
Like Bill Murray in Groundhog Day, many in-house practitioners are tasked with repeating the same thing over and over again. Whether it's explaining basic functions of trademark law to reminding colleagues of the need for clearance searches (often after they've set their heart of a particular product or brand name), it can be a tedious process. Indeed, some panellists showed their exasperation in this regard. Jomarie Fredericks, deputy general counsel and chief IP counsel at non-profit Rotary International, said that after explaining stuff "over and over again", she had "reached a point where I don't know how to explain it to them again". She expanded: "I am sometimes asked the same thing for what feels like the 400th time and it often feels like the most obvious thing. But, of course, it's not obvious, it's a matter of not understanding certain nuances of trademark law (such as not owning a mark in every goods and service) and also an acceptance of what the law is rather than what their personal wishlist is. I don't think they are deliberately trying to obscure the facts, they just simply don't understand, so I've found that you need to be patient, take a deep breath and explain it to them again." Responding to this quandary, one in-house delegate in the audience revealed they had made a series of infographics to explain various trademark concepts, hosting each on the company's intranet platform. This approach has been successful, they added, suggesting the visual element could be key in having educations tools that colleagues actually remember. There are a number of free infographic resources online, so this could be a strategy worth pursuing.
Be ready for complaints - but take the higher ground
One little mentioned element of enforcement efforts is the personal backlash that some practitioners receive. Jeffrey Fridman from Accenture explained that "one of the best things" he's done is "make friends with the social media marketing team" following an infringer targeted him on social platforms ("by saying terrible things about me"). Another example was when an individual linked to a UDRP complaint emailed Fridman offering to sell a domain, which was promptly added as evidence to the UDRP. The individual replied to this by lowering the domain price, which Fridman again added as evidence to the UDRP. Fridman concluded: "He ended up saying I was unethical, and actually BCCed senior leadership to such emails. I realised then that when you go after cybersquatters, they are sometimes just not logical." Another practitioner had a similar experience, with David Gooder, former chief trademark counsel at Jack Daniel's Properties, saying "a person was trying to make problems by saying what a bad person I was, and actually talked to the equivalent of the National Enquirer of Georgia about me". For Fridman, when facing off against certain infringers, he advises to "give it to outside counsel – they can handle it". Sometimes, of course, some partners are a pleasure to deal with – and in those cases, Gooder says Jack Daniel's often took a non-traditional approach. "If they cooperated, we send them a gift – only a little thing that often costs the company nothing," he says. "If we were to get a positive judgement in a big counterfeiting case, we would try and find a way to give the money back – for example, in Sevilla, we got $100,000 from counterfeiters and we gave it to a local charity in that area." Ultimately, says CME Group's Kelly, rights holders must weigh-up the most effective approach to take: "In terms of infringement, some colleagues say 'let's take them golfing', others say 'we should bury them' – there are a lot of delicate things we need to discuss before we decide what action to take."
Get creative, even if it makes you uncomfortable
The keynote at Managing Trademark Assets USA saw Alexandra DeNeve of Velcro USA elaborate on how the award-winning 'Don't say Velcro' video and campaign, which educated consumers on the risk of genericide when brands are misused, became a reality. DeNeve, who was determined to create a humorous educational campaign, opted "to ask for forgiveness not permission" and started calling advertising agencies in a bid to drive ideas she could take back to the business. However, this took her into a world she had little experience of, and once she had meetings set-up, enlisted a marketing colleague to the cause – with DeNeve attending the pitch meetings "where I gave a primer in trademark law and showed traditional campaigns, and said this is the dry legal message and I need you to make it interesting!". Her marketing colleague called social media guru Penn Holderness ("something that would never have occurred to me to do") and the concept was subsequently developed. As the budget for the video came from legal, DeNeve had final script approval and had to overcome a reluctance to incorporate swear words into the video: "I was iffy on the bleeped words but I gave on that, and it was the right call ultimately." The video, though, was only the start of the campaign. For instance, the company took out search engine adverts wherein people browsing for 'Velcro shoes' were told that there is no such thing.
A key follow-up activity was a social media takeover in which, DeNeve recounted, "we found tweets from that day either talking about the video or misusing the term 'velcro' and wrote musical responses". A follow-up video then focused on – and responded to – negative social media posts about the video. Driving the campaign forward took DeNeve into the world of proactive online marketing and saw her make creative decisions that, in some respects, she was uncomfortable with. However, the results are undeniable. Sometimes, moving outside your comfort zone can pay dividends.
Cease and desist efforts need to be collaborative
That there is a risk that cease and desist efforts could go viral is not news to trademark professionals. Over the past few years, both polite and aggressive letters have hit social media streams – with the former being praised and the latter lambasted. A fundamental question that needs to be asked when faced with infringement is what tone to adopt, and in many instances this should not be a solely legal call. Gooder, who in his former role at Jack Daniel's Properties was responsible for the "most polite cease and desist letter ever", recalls: "If it had a departmental implication we would go to maybe the commercial or regional manager. Often there can be a commercial backlash you may not see coming on. But we have so many issues that if we went to the marketing people every time it came up, they would throw up their hands in frustration. So we would go after the no-brainers, and just give them a list every quarter." Where other parties are engaged in the decision, or handling the response, one tip is to ensure that the legalese is dialed down. Starbucks Corporation's Naeve reflected: "If something comes along where we think a letter may get attention we would work with public affairs and work with them to develop speaking points. They aren't detailed talking points but we give them the heads up – why it is significant, why it may get attention – and supply a prepared response."
And finally: The quote of the day:
Much of the event discussion focused on brand challenges and how to overcome them. What was evident across both days was how important the work of trademark counsel is – even if the business does not always understand what they do. While one of the sessions took a deep dive into how to ensure the business truly understands the brand function, lack of understanding can be an unexpected positive, joked McAndrews Held & Malloy's Patrick J Arnold Jr: "The real beauty of working in the trademark industry is that everything is so vague that nobody gets it; so we will always have a job!"