Spike in coronavirus knock-offs; Tiger King trademark fiasco; new TMview and DesignView – news digest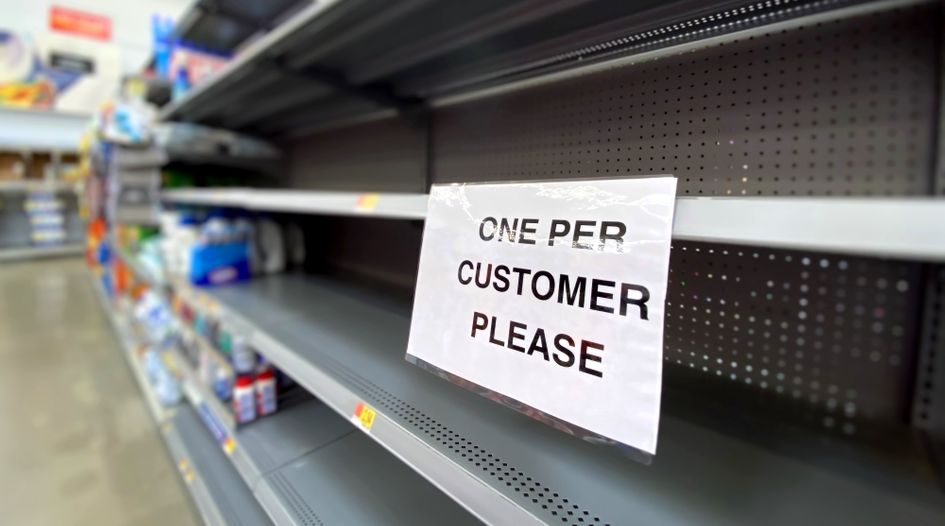 Every Tuesday and Friday, WTR presents a round-up of news, developments and insights from across the trademark sphere. In our latest edition, we look at how counterfeit vaping devices are resurfacing as a major issue, the first well-known trademark being registered in Tajikistan, a new CEO being unveiled at UpCounsel, AM General retreating on its Call of Duty lawsuit, and much more. Coverage this time from Trevor Little (TL), Bridget Diakun (BD), Jonathan Walfisz (JW) and Tim Lince (TJL).
Market radar:
Incopro tracks spike in covid-19 knock-offs – Brand protection software provider Incopro has released a new report, Pulling Together in the Age of COVID-19: A Brand Protection Action Plan, which shares covid-19 counterfeit goods data showing growth in product listings designed to deceive consumers over recent weeks. While a number of platforms have taken a proactive approach to removing listings that explicitly mention coronavirus, infringers selling counterfeits are evading these rules by not explicitly mentioning the virus, or selling lookalike versions of major brands' hygiene products that do not explicitly violate those brands' intellectual property. In terms of numbers, the company found 272% growth in listings of non-genuine hygiene-related products such as hand sanitizers and anti-bacterial wipes on ecommerce marketplaces in Q1 2020 compared to Q1 2019. Additionally, over 1,160 social media posts were detected across four key platforms (Facebook, Twitter, Instagram, and Vkontakte) selling counterfeit respiratory masks during one week in March 2020 – a 2,490% increase as compared to similar posts in December 2019. Infringers are also taking advantage of the rise in home working and exercise, with a 94% increase in non-genuine listings of home appliance products and spare parts, and a 51% increase in non-genuine listings of sporting goods and running shoes. Piers Barclay, chief strategy officer at Incopro, reflects:  "At times like these, brands must be proactive in monitoring for non-genuine versions of their products online in order to protect their consumers and help defend against the impact of the pandemic." (TL)
Counterfeit vaping devices resurface as a major issue – US Customs and Border Protection confiscated a shipment in Cincinnati this month which contained 72,500 counterfeit packets of disposable vaping devices. It included 153 cartons of inauthentic Pop Blue Raz packets that would have been worth just over $1.1 million in market value. The shipment was on route to Georgia and had arrived from Hong Kong. The risks related with counterfeit vaping products is high given the fact that people are inhaling the products. This is not the first time that counterfeit vaping products have been intercepted, with officials confiscating a shipment of 180 counterfeit Juul products last October. The issue became so pronounced that Juul launched an investigation into the trade of counterfeit products last year, tracing much of the activity back to China. (BD)
UpCounsel's new CEO unveiled after acquisition – In February we reported that legal platform UpCounsel had announced it was to cease operations on 4 March 2020, before co-founders Mason Blake and Matthew Faustman made a U-turn and lifted the shutdown date, announcing that "it is business as usual." This week came a new development, with Xavier Helgesen unveiling himself as the new acting CEO of UpCounsel following its acquisition by Enduring Ventures. Noting that Enduring Ventures is a small, private holding company backed and run by entrepreneurs rather than venture capitalists (so are not "looking to shoot the moon with massive returns"), he explains that he purchased the offering having previously been a customer: "My past businesses relied on UpCounsel for legal work. We saved a ton of money using it! We were shocked when we heard UpCounsel was shutting down. So, because we're such big fans, we bought UpCounsel to prevent the service from closing and to focus on expanding it." (TL)
Legal radar:
Owl Tutoring fights back against Florida Atlantic University in trademark spat – Owl Tutoring, a collegiate tutoring company, has been slapped with a trademark infringement case by Florida Atlantic University (FAU). The tutoring business has had a long-standing relationship with the university, operating on campus for nearly five years before moving to the FAU business incubator. Owl Tutoring's founder, FAU alum Neil Parsont, says that the company had advertised its services around the campus and established relationships with professors who helped to distribute flyers to students. Owl Tutoring is now fighting these infringement claims given that this relationship went on in an amicable way for 10 years without the FAU objecting to its name. Further, Owl Tutoring is arguing that the university cannot make a claim to the term 'owl' in relation to tutoring services because it is a well-known association for wisdom and knowledge and thus often used in these businesses. Parsont has turned to GoFundMe to raise funds to cover the legal fees. (BD)
AM General retreats on Call of Duty lawsuit – A New York court has dismissed a trademark infringement suit by AM General against Activision Blizzard, reports GameDaily.biz. The car manufacturer was unhappy with the depiction of its Humvee brand in the video game franchise 'Call of Duty' and claimed Activision had not gained permission for the brand's use. However, the court dismissed these claims in a summary judgement. Judge George B Daniels wrote: "Both parties agree that US and foreign militaries use Humvees in operations around the world. If realism is an artistic goal, then the presence in modern warfare games of vehicles employed by actual militaries undoubtedly furthers that goal." The court further noted that the two industries are not in direct competition with one another. (JW)
First well-known trademark registered in Tajikistan – On 13 March, the OILA trademark was recognised as the first well-known trademark in the country of Tajikistan. According to the registry, "the OILA trademark of the popular cultural and educational newspaper belongs to Oila LLC, which has been operating in the republic and abroad for over 20 years and has a wide readership". (TJL)
Office radar:
(For the latest coronavirus-related updates from national IP offices, please read our dedicated article which is being continuously updated.)
EUIPO launches shiny new TMview and DesignView platforms – The EU Intellectual Property Office (EUIPO) has announced the launch of new versions of its TMview and DesignView platforms. The new versions feature a redesigned interface and "a greatly enhanced navigation and search experience". For those that want a detail rundown of the changes, WTR published an exclusive guest post from the team behind TMview on tips for making the most of the new features. (TJL)
USPTO seeks schools – The USPTO has announced it is expanding its Law School Clinic Certification Program by admitting additional schools into the program. Founded in 2008, the program currently includes 59 law school clinics and offers patent and trademark applicants access to pro bono services. It also gives law students, who are strictly supervised by a faculty clinic supervisor, experience in practicing intellectual property law before the USPTO. Submissions from interested law school clinical programs will be accepted on a rolling basis through May 31, 2021. Details of the program expansion and application materials are available on the Law School Clinic Certification Program page of the USPTO website. (TL)
IPOS announces adjudicators – The Intellectual Property Office of Singapore (IPOS) has announced the appointments of new legal and intellectual property professionals to its panel of IP Adjudicators, bringing the panel of experts hearing IP disputes at the office to a total of seven. Appointed to a two year term, the panel allows disputing parties the opportunity to have their cases heard by legal experts with commercial, legal and academic expertise and perspectives. Of the seven-member panel, three members were reappointed: Cheng Pei Feng (senior assistant registrar, Supreme Court of Singapore), David Llewelyn (professor of law (practice) at the school of law at Singapore Management University, and Burton Ong (associate professor in the faculty of law at National University of Singapore).  Two new appointees to the panel are Adrian Tan, partner at TSMP Law Corporation, and Sheik Umar Bin Mohamed Bagushair, district judge at the State Courts of Singapore. The panel also comprises two IP adjudicators who have completed one year out of their two year term, namely:  Jason Chan, director of the litigation and enforcement group at Amica Law, and Tony Yeo, managing director, intellectual property at Drew & Napier LLC. (TL)
Media Watch:
Corsearch examines the impact of covid-19 on counterfeiting – In an article on Corsearch's website, Daniel Bennett discussed how the coronavirus pandemic and other previous epidemics have influenced counterfeiting activity. Looking back to SARS in 2003, he notes how the epidemic drove more Chinese shoppers onto internet platforms. During the current crisis, the risk of leaving home will increase that same trend exponentially. While factories in China were under enforced closure, supply chains of both legitimate and counterfeit goods have been interrupted. As Chinese factories start up again, consumers will leap at the opportunity to do their shopping online. This increase in e-commerce will mean a necessary step up from trademark professionals to thwart potential counterfeit bad actors. (JW)
"Tiger King" sought reputational damage, in addition to murder – New Netflix documentary series 'Tiger King' has been the viral entertainment of the past month, and features a real treat for trademark professionals. The show follows the eccentric Joe Exotic, a self-described "gay, gun-carrying redneck with a mullet" who owned a private zoo in Oklahoma. Across seven episodes, the show looks at Exotic's bitter, decades-long feud with animal conservationist Carole Baskin, who owns the Big Cat Rescue sanctuary and passionately wanted to put Exotic out of business for alleged mistreatment of the exotic animals in his care. The show features dozens of unbelievable moments, with one particular episode focused on a trademark dispute between the pair. While we won't spoil the outcome, it hinges on Exotic launching his own 'Big Cat' entity and "boasting on Facebook that he registered the Big Cat Entertainment name to ruin its goodwill on Google". For those that have seen the series already, The Fashion Law has an informative, fun breakdown of the case in more detail. For those that haven't seen it, we highly recommend it for any fans of outrageous true-life stories. (TJL)
On the move:
Montgomery McCracken expands IP department with double hire – Montgomery McCracken has announced that Patrick J Farley and Yi Lu will join the firm's IP team within the Philadelphia office. Farley has been appointed to partner, and Lu to patent agent. Farley has a broad IP practice advising clients on patent drafting, patent prosecution, patent litigation, patent and trademark portfolio management, and licensing. He previously served as in-house counsel in Genentech Roche, MedImmune AstraZeneca, and Precigen. Lu handles prosecution of both patent applications and trademark registrations in the US and abroad, with a particular focus on China. He also advises clients on enforcing their IP rights against infringement. (BD)
Mewburn Ellis announces a number of moves – European IP firm Mewburn Ellis has announced a series of  partner promotion and director level appointments. In addition to Adam Gregory being promoted to partner, June Lyons, Susie Harrison and Rachel Jones have been appointed to the role of patent director, while Ed Harrison has been appointed to the role of trademark director.Mewburn Ellis unveiled its new patent director and trade mark director role pathway in early 2019, designed to attract senior IP talent to the firm in a non-equity capacity. New trademark director Harrison sits within the firm's trademark group, working closely alongside former CITMA chair Kate O'Rourke, who joined the firm in 2019. (TL)
Ashe Puri joins Maynard Cooper – Maynard Cooper has appointed Ashe P Puri to partner within the firm's Los Angeles office. Puri is a trial lawyer who will be working on the IP team. He has acted as lead counsel in dozens of patent infringement and trade secret cases throughout the US. Puri was formerly a partner at Fox Rothschild. (BD)
Young Conaway Stargatt & Taylor boost its IP practice – Delaware firm Young Conaway Stargatt & Taylor has brought in two new IP litigation associates. Nicholas D. Picollelli Jr comes with experience practicing asbestos law while Joseph F. Ecker has previous experience as a patent examiner at the USPTO. (JW)
And finally...
A free guide to trademark law in key jurisdictions now available – The 2020/2021 edition of the World Trademark Review Yearbook. Is now available, free-to-view, online. The publication is firmly established as an essential guide to trademark law, provides legal professionals worldwide with a simple, easy-to-use digest of the structure of trademark regulation across the globe. In this latest edition we present in-depth analysis of trademark law in 24 key jurisdictions, as well as a regional exploring how the EUIPO uses its discretionary power when deciding on trademark disputes. We also feature guidance offering eight tips to assist in managing a global trademark portfolio, as well as updates from INTA and MARQUES. The guide is available here. (TL)
---
Copyright © Law Business ResearchCompany Number: 03281866 VAT: GB 160 7529 10