Praise for the Police IP Crime Unit's coronavirus counterfeits swoop; Katy Perry clothing spat; Iceland amends fees – news digest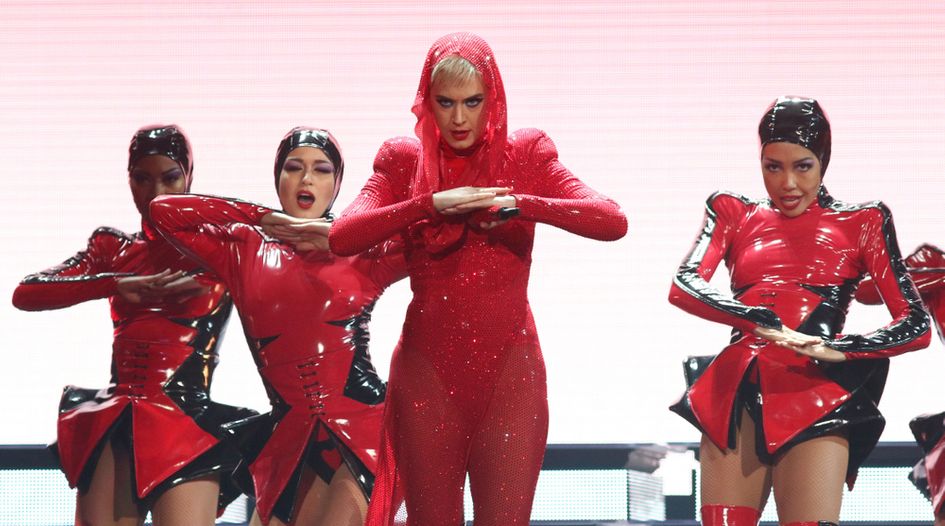 Every Tuesday and Friday, WTR presents a round-up of news, developments and insights from across the trademark sphere. In our latest edition, we look at the arrest of a man producing fake coronavirus testing kits, a personal message from the INTA president, Nominet's new approach to seized domains, and much more. Coverage this time from Bridget Diakun (BD), Trevor Little (TL) and Jonathan Walfisz (JW).
Market radar:
PIPCU praised after swoop on counterfeit coronavirus kits – We reported previously on the seizure of a package containing fake coronavirus test kits at Los Angeles International Airport. On Friday 20 March, officers at the City of London Police Intellectual Property Crime Unit (PIPCU) arrested Frank Ludlow in a post office near to his home address. He was subsequently charged with one count of fraud by false representation, one count of possession of articles for use in fraud and one count of unlawfully manufacturing a medicinal product. He was remanded in custody until 20 April 2020, his arrest following a joint investigation by PIPCU, the Medicines and Healthcare products Regulatory Agency (MHRA) and the US Food and Drug Administration (FDA). During a search of Ludlow's home, 300 more treatment kits and an estimated 20 litres of chemicals used in the production of the fakes were discovered. Following Ludlow's arrest, Dr Ros Lynch, director of copyright enforcement for the UK Intellectual Property Office said: "We congratulate PIPCU for an outstanding result. Counterfeit medicines not only exploit the consumer but pose a real threat to public safety. In this case it is clear that PIPCU's arrest has helped to protect the public's wellbeing." (TL)
A message from the INTA president – Ayala Deutsch, 2020 INTA president, has published a video to members to let them know that, even under the current circumstances, association staff are busy continuing their mission. She adds: "I wanted to check in on everybody and make sure everyone is safe and productive, and to assure you that even from their remote locations the INA staff continues their excellent work on a variety of matters and that we are focused on the health and safety of our staff and our members first and foremost, but we are confident that the efforts of our volunteers and our staff, and the teamwork that we've always displayed, will help us navigate the challenges of the current situation together. So I look forward to continuing our work, even if it is remotely for the time being and thank you on behalf on of INTA, the staff, the officers and the board of directors for your continued participation in the organisation." Deutsch has taken on the presidency at a unique time for the association. While she should be prepping for her annual meeting opening address, she instead finds herself navigating the significant impact of the COVID-19 emergency. At such times, strong leadership is required, and it is positive to hear how the association is adapting in order to continue its important work. (TL)
INTA publishes Brexit fact sheet – In other INTA news, the association has published a 'Brexit Fact Sheet for Practitioners' to provide information about the implications of Brexit for brand owners and IP professionals during the transition period leading up to 31 December 2020, and beyond. (TL)
Anaqua bags a tasty client – Anaqua has announced that Takasago International Corporation has selected its software and services to enhance the efficiency of its global IP management. Established in Japan in 1920, Takasago has an international IP portfolio of patents and trademarks covering all kinds of flavours, fragrances and aroma ingredients. Through the agreement, Takasago will use the Anaqua platform as its centralised IP management system, including for patent and trademark management and monetisation efforts, contract management, renewals and financial forecasting. "We are excited to be working closely with Takasago to provide them with an integrated IP management system that will support and enhance their global innovation and operational excellence," comments Bob Romeo, CEO of Anaqua. "Anaqua is honored to welcome Takasago to our client community. Their joining reflects our continued growth as a global IP management provider and our industry expertise in the APAC region." (TL)
EY Japan to launch blockchain traceability system – Since the early days of blockchain the technology has been floated as a way to track products and reduce the risk of counterfeit trading. EY Japan, a segment of the global accountancy firm, will be launching a blockchain traceability system for Japanese sake and fruit when the business environment becomes more stable, reports Nikkei Asian Review. SAKE Blockchain will be implemented throughout Asia and will be able to share data on sake, including where it was brewed, as well as details of quality control along the distribution chain. It will thus help brewers and producers to differentiate between authentic and fake products, and will allow end consumers to check a brewer's history. Sake producers are in desperate need of a solution to counterfeits, as a high volume being sold on the market and are often "high-quality" fakes. SAKE Blockchain services will be available in English, Chinese and Korean. EY Japan is hoping to expand the service to include the country's fruit industries, which also suffer from counterfeits. (BD)
South Korea's reports fall in IP trade deficit – The Bank of Korea has announced its success in reducing South Korea's IP trade deficit, reports Business Korea. The country's IP trade deficit was at an all-time low in 2019 at $720 million, the lowest since records began in 2010. The bank reported that this success was the result of South Korean gaming companies increasing exports of games and franchise rights, as well as R&D and software copyrights reaching a record annual trade surplus high. (JW)
Legal radar:
Katy Perry heading to court? – Pop star Katy Perry could be called to give evidence as she defends an alleged trademark infringement case against an Australian designer, the Canberra Times reports. The dispute was initiated by Sydney-based designer Katie Jane Taylor, who registered her birth name, Katie Perry, as a trademark for clothing in 2008. The case focuses on the US singer-songwriter's sale of clothing in Australia using her stage name in Myer, Target and a range of online stores. The designer's lawyer said that there "must be a high likelihood" of either the pop star or someone from her company being called to give evidence in the trial. (TL)
Office radar:
(For the latest coronavirus-related updates from national IP offices, please read our dedicated article, which is being continuously updated.)
Iceland changes international trademark registration fees –WIPO has announced a change in fees for registrations using the Madrid System designating Iceland. The new costs will come into effect on 1 May. All amounts are in Swiss francs, with each application or subsequent designation for a single class being Sfr266 and each additional class being Sfr57. These costs are the same for collective marks, as well as renewals. (JW)
Domain Radar: 
Nominet takes educational approach to suspended domains – On Domain Incite, Kevin Murphy reports that Nominet, the UK registry for domain names, is to start providing informational landing pages when it suspends domains for criminal behaviour, including coronavirus-related scams. When suspending domains at the request of law enforcement, instead of these sites no longer resolving, Murphy notes that Nominet will now resolve to landing pages "providing consumer advice and education". (TL)
Media Watch: 
Law firm issued listening device warning to staff – With homeworking being embraced the world over in response to the coronavirus epidemic, Bloomberg reports that law firm Mishcon de Reya has issued advice to staff to mute or shut down listening devices such as Amazon's Alexa or Google's voice assistant when they talk about client matters at home. The outlet reports that Mishcon's warning covers any kind of visual or voice-enabled device like Amazon's and Google's speakers. However, Mishcon de Reya partner Joe Hancock also cited video products such as Ring, baby monitors and closed-circuit TVs as a concern. (TL)
Why COVID-19 crisis terms don't make good trademarks – Over on JD Supra, Weintraub Tobin's Scott Hervey published his thoughts on why some of the terms associated with the COVID-19 pandemic are not registrable as trademarks. He remarks that the USPTO would likely refuse a registration of the mark SOCIAL DISTANCING as the term is merely informational or a widely used message. Other examples include: IT'S TACO TUESDAY for clothing, I LOVE YOU for jewellery, BLACK LIVES MATTER for a wide variety of goods and services, THINK GREEN for products advertised as recyclable and promoting energy conservation, and DRIVE SAFELY for automobiles. Therefore, we are unlikely to see many disputes over marks using phrases such as 'social distancing', meaning that you can promote the important practice on all your social media channels free from the anxiety of receiving a nasty cease and desist letter. (JW)
On the move: 
Joelson boosts litigation and dispute resolution practice with IP hire – Akash Sachdeva has joined Joelson as a partner in the firm's litigation and dispute resolution practice group. Sachdeva has over 20 years of experience in IP litigation, handling issues such as patent litigation, trade secret arbitration, social media conduct, advertising disputes and digital reputation management. He offers strategic counsel to high-tech companies as well as household brands, with past clients including BlackBerry, eBay and Williams Formula One. (BD)
In memoriam: 
USPTO mourns the loss of the Honorable Gerald J Mossinghoff  – Former assistant secretary of commerce and commissioner of patents and trademarks, the Honorable Gerald J Mossinghoff, has sadly passed away. Mossinghoff jumped into the world of intellectual property in 1957 when he began working as a patent examiner. He would later be appointed as head of the USPTO by US President Ronald Reagan. During his tenure, Mossinghoff worked to improve customer service and examinational efficiency. He also spearheaded efforts to automate processes at the USPTO. Mossinghoff would eventually return to the office in an advisory role, serving for eight years as a member of the patent public advisory committee. He was inducted into the IP Hall of Fame in 2007. A statement from USPTO director Andrei Iancu described him as "a true legend in the American intellectual property community", adding: "Commissioner Mossinghoff brought his passion for law and science to every organization he touched, leaving a lasting mark on American innovation. I, the USPTO, and the entire IP community will miss him dearly." (BD) 
And finally... 
Your 'go-to' resource for finding trademark expertise – The 2020 edition of World Trademark Review 1000 – The World's Leading Trademark Professionals is now available to view online. The publication identifies leading trademark practitioners and firms from around the globe. As well as illustrating the depth of expertise available to rights holders as they seek to protect their brands, the guide serves as the definitive tool for locating top-calibre trademark expertise worldwide. Click here to access this year's edition. 
---
Copyright © Law Business ResearchCompany Number: 03281866 VAT: GB 160 7529 10